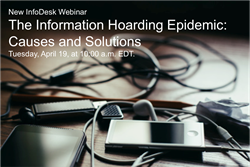 For a large or multinational corporation with tens of thousands employees, all duplicating the same effort, day in and day out, the number is simply staggering," said Epstein. "And that is the real cost of digital hoarding.
Tarrytown, NY (PRWEB) March 27, 2016
InfoDesk, in cooperation with the Special Libraries Association's Pharmaceutical & Health Technology (PHT) Division, will present a complimentary webinar, "The Information Hoarding Epidemic: Causes and Solutions," on Tuesday, April 19, at 10:00 a.m. EDT. Register online.
Everyone wants to be more organized and more productive. The question is – "How?" For librarians and other information professionals, this is a particularly timely question in the age of digital hoarding or "infobesity."
This webinar will examine the disturbing trend of digital hoarding in the workplace. What's causing it, what it's costing, and more importantly, what can be done about it. The speakers will discuss specific strategies to make sure information is easily findable and how to implement sustainable strategies to combat the information hoarding epidemic.
"Just think how much time you spend looking for emails, files, documents, and images, all on your own devices," said Lynn Epstein, InfoDesk COO. If you multiply that number by ten or more you'd have a rough idea of how much time the average office worker spends looking for information, online content, social media and other decision-making data. "Now try to imagine how many wasted hours that amounts to across an organization," she said.
"For a large or multinational corporation with tens of thousands employees, all duplicating the same effort, day in and day out, the number is simply staggering," said Epstein. "And that is the real cost of digital hoarding."
Much has been already been written about information hoarding, digital hoarding and infobesity. Most articles focus on the unmanageability of the volume of data being generated or the personal and social cost of digital distraction.
This webinar is designed to help information professionals and librarians understand the ramifications of digital hoarding or "Infobesity" in the workplace. And what can be done about it.
More importantly, this webinar will discuss why combatting this epidemic requires more than just buying the right tools. It also requires changing user behavior.
"Ultimately, controlling infobesity is just like losing weight," said Robin Neidorf, Director of Research at Jinfo. "Everyone wants to lose weight, but the simple fact is you have to eat less and exercise more."
The webinar will feature speakers Zena Applebaum, Director, Competitive Intelligence at Bennett Jones LLP and Past-Chair of SLA CID, and Sean Smith, VP of Marketing at InfoDesk and PR Chair for SLA PHT. Together, they bring nearly forty years of information management experience and insight.
This 60-minute webinar will be held on Tuesday, April 19, 2016, at 10:00 am EDT. Registration is open to all at no cost, but space is limited. Please note: this webinar will be recorded—slides and recording will be available to all registrants (including those unable to attend).
This webinar was developed as part of the PHT Division's Continuing Education Programming. The complimentary session is open to all, but preference will be given to current PHT members. The recording and slides will be made available online following the event.
Register now – Space is limited!
For more information please contact Sean Smith at sean(dot)smith(at)infodesk(dot)com.
###
About InfoDesk
InfoDesk helps organizations integrate, manage and share all of their information resources on a single "content neutral" platform. InfoDesk has been providing actionable intelligence to multinational corporations, government agencies and other organizations since 1999. InfoDesk is based in New York with offices in London, Washington, DC and India. Learn more.
About PHT
The Pharmaceutical and Health Technology (PHT) Division of the Special Libraries Association (SLA) provides a forum for the exchange of information and ideas among individuals interested in the collection, storage, retrieval, analysis, and dissemination of information in all aspects of the pharmaceutical, biomedical, biotechnical, cosmetic, medical device, and other health care fields. PHT is involved in all aspects of information science, as related to education, research, business and marketing in health care.
About Zena Applebaum
Zena Applebaum is the Director of Competitive Intelligence at Bennett Jones LLP. Zena's primary responsibilities include practice development, market and competitor performance analysis, client relationship management, counter-intelligence and marketing. Zena brings a unique perspective to intelligence and market dynamics as a result of broad business development, data management, marketing, and corporate research experience in a variety of sectors. Zena has a joint academic and applied Master of Arts degree in Communication and Culture from York and Ryerson Universities. A regular speaker and writer on competitive intelligence topics in Canada and abroad, Zena has been inducted as Fellow to the Council of Competitive Intelligence Professionals, is an instructor at the University of Toronto, recently served as a the Chair SLA Competitive Intelligence Division Board of Directors, and is a former member of the SCIP Board of Directors. She can be reached on Twitter at @ZAppleCI.