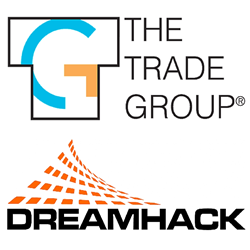 As Stone explains, "DreamHack knew we had both the experience and a crystal clear understanding of the special requirements needed to make an esports event like DreamHack successful."
Dallas, Texas (PRWEB) March 31, 2016
This May, DreamHack, in partnership with The Trade Group, will launch its first event for gamers in North America. DreamHack describes the 3-day event as "a meeting place for gamers," centered around a "massive LAN party." Other activities include "world class esport tournaments," DreamExpo and Cosplay.
As the Official Contractor of DreamHack Austin, The Trade Group will provide a full spectrum of services to participants and exhibitors including design, graphic production, exhibit production, labor services, material handling and transportation.
For the past 30 years, The Trade Group has produced thousands of branded events and environments, with gaming being one if its key niches.
According to Chris Stone, President and Founder of The Trade Group, "Gaming is one area where we have really honed our expertise over the past several years. We believe it's important to take a collaborative approach, so we always work closely with game developers and esport event managers to ensure we create the best experience possible for event participants and exhibitors."
The Trade Group's deep connection with game developers, primarily in the area of esports, and experience producing successful esport events worldwide, fostered the opportunity for DreamHack and The Trade Group to partner for the North American launch.
As Stone explains, "DreamHack knew we had both the experience and a crystal clear understanding of the special requirements needed to make an esports event like DreamHack successful." With The Trade Group, DreamHack also found to a team of experts in a wide range of disciplines.
"Through our partnership, we've been able to surround DreamHack with some of the top event professionals in the esports industry. We've been building our team of designers, engineers, business development, event marketers, account managers and logistics specialists for 30 years, and that experience pays off for partners like DreamHack," says Stone.
As the first event nears, Stone is looking forward to an enduring and successful partnership with the DreamHack team. According to Stone, "We are tremendously excited to partner with DreamHack on producing their events in the United States. DreamHack and The Trade Group have collaborated extensively to heighten participant experience and position DreamHack as the 'must attend' event for gaming enthusiasts. We hope to see you there."
For more information about The Trade Group's partnership with DreamHack, please contact Neeshu Hajra, VP of Business Development, at nhajra(at)tradegroup(dot)com or our Dream Hack Account Manager, Miriam Wagliardo, at mwagliardo(at)tradegroup(dot)com.
About The Trade Group:
The Trade Group is a full-service, award-winning provider of products and services for trade shows, corporate events, retail environments and an endless array of face-to-face experiences. The organization helps clients share their unique stories through a comprehensive suite of solutions that includes: exhibit design and fabrication, graphic design and production, exhibit management, digital applications, video production, exhibit accessories, strategic marketing and more.
About DreamHack:
DreamHack started in November 1994 when Kenny "K2-ICE" Eklund and Martin "DH_admin" Öjes rented the local school cafeteria in the small city Malung, Sweden and invited their computer enthusiast friends to join them for a weekend of coding and hacking.
Today DreamHack Summer and DreamHack Winter are the world's largest digital festivals, the indisputable largest LAN parties in the world with over 26,000 visitors, 22,483 unique devices in the network each and close to 10 000 visitors who enjoy DreamHack with their own computer. DreamHack also features world class esports events, DreamExpo, cosplay and a celebration on all things Internet happening several times each year all around the world.