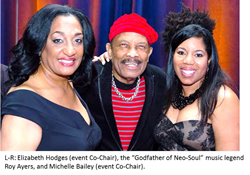 Washington, DC (PRWEB) April 07, 2016
Over 1,000 of the area's who's who and celebrity high rollers cast top dollar and all-or-nothing bets for charity at the Links Incorporated Arlington Chapter's 43rd Evening in Monte Carlo signature fundraiser on Saturday, March 19, at the opulent Crystal Gateway Marriott from 7pm until midnight. Veteran radio personality Tony Richards of WHUR 96.3FM was the master of ceremonies for the high stakes black-tie affair. Co-chairs for this grand affair were Arlington (VA) Links members Michelle M. Bailey, Senior Vice-President at BET Networks, and Elizabeth Hodges, President of First Class, Inc. Booking/Tour Management.
During dinner, guests were entertained by an unforgettable "live" performance from legendary "Godfather" of Neo-Soul Roy Ayers. He brought the house down with popular tunes "Running Away" and "Everybody Loves The Sunshine." This year's celebrity auctioneer, Paul Wharton, popular celebrity stylist and TV personality, upped the ante during the Live Grand Auction featuring an all-expense paid BET Awards Package, Del Frisco's Lunch for 5 with Mae Jemison (first African American female astronaut), and an all-expense paid trip to the renowned Fairmont Sonoma Inn and Spa awarded to the highest bidders.
From the ballroom to black jack tables, casino gaming and good times were endless. Guests also played bingo and bid whist, along with dancing the night away at the Club Monte Carlo lounge with DJ Divine. The Silent Auction featured luxury goods and services including a Custom Couture Gown by designer Alvin Thompson, a Catered Brunch with Friends courtesy of celebrity event planner Andre Wells, a Custom His and Hers Suit Package for 2 by designer KAS who's created gowns for pop star Rihanna, a Bliss Spa Package, Denver Broncos and Baltimore Ravens signed memorabilia from Nzone Sports, which all yielded substantial wages. And the ever popular Marketplace Boutique featured an array of high-end vendors featuring fashions, custom jewelry and artwork. Monte Carlo was a fun-filled night packed with something for everyone so ultimately everyone in attendance was a winner.
"The deck is stacked against women with high-risk conditions such as heart disease and many of our young people have limited access to the resources that are fundamental to their achievement and advancement," stated Arlington (VA) Chapter President Evelyn Brown. "Monte Carlo helps to lessen the odds and increase their chances for success. Monte Carlo could not have been possible without the continued support from generous sponsors and loyal patrons who believe in the organization's community-wide vision of women's heart health, children's mentoring and STEM programs, along with college scholarships. The chapter also extends a hand to support the Flint Water Crisis and send medical supplies for babies suffering from HIV and AIDS in Haiti." Sponsorships from signature partners include platinum plus sponsor Aetna; platinum sponsor General Electric (GE); gold sponsor BET Networks; bronze partners The Chatman Fund, Coca-Cola (Coke) and Destination DC, along with a host of other donors and in-kind partners. The Arlington Links have raised hundreds of thousands of dollars over the years to support award-winning transformation programs and initiatives. And as a result of sponsorships, donations, and auction winnings, the Arlington (VA) Links exceeded their fundraising goal for Monte Carlo 2016!