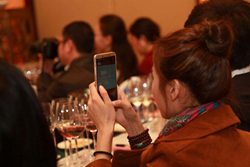 From a b2b perspective, the Shangri-La has been an important and necessary change for us
Chendgu, China (PRWEB) March 26, 2016
Vinitaly Chengdu came to a close on Wednesday after four days of wine tastings and seminars that this year attracted more than 20,000 attendees at the Shangri-La Hotel, the brand new location of this third edition of Vinitaly Chengdu at the International Wine and Spirits Show.
The Italian pavilion was undoubtedly the most visited by Chinese operators and the Vinitaly International Academy (VIA) Executive Wine Seminars, held by the Italian wine expert Lingzi He, were all sold out. Executive Wine Seminars are just a small peek into the annual VIA certification program, which takes place in Verona, Italy.
Launched for the first time two years ago, VIA is now ready to expand to the most important wine markets outside the European Union: next Fall China will be one of the three countries, together with US and Canada, where VIA will be carrying out a market test with the aim of further promoting Italian wine education by fine-tuning the basic level of the certification program. There are currently 29 certified Italian Wine Ambassadors and three Italian Wine Experts by VIA from its first edition.
Education and an upgrade to the event's location were the key highlights of this year's edition: "It was not easy to leave the Kempinski Hotel. It is undeniable that, since 2009, Kempinski has been, despite its limits, the nerve centre for all Chinese distributors for imported wines", explained Stevie Kim, Vinitaly International Managing Director. "From a b2b perspective, the Shangri-La has been an important and necessary change for us to envision in order to foster our future growth in China. A difficult choice but one made in complete agreement with Pacco Communication from Shenzen, the organizers of Kempinski". Despite the difficulty of such a choice, it eventually turned out to be decidedly the right one: high quality buyers came from all parts of China to visit the Italian area, contributing to Vinitaly's gradual transformation into a b2b showcase of national level in one of China's most important cities for b2b events.
Italian wine importers Edward Liu (Sinodrink), Lina Kang (Qingdao Stardragon) and Matteo Mazzoni (VM Fine Wines), who took part in all three editions of Vinitaly Chengdu, expressed their enthusiasm for the change in location: "This is our third year at Vinitaly Chengdu, two editions at the Kempinski, and now at the Shangri-La Hotel" said Matteo Mazzoni, marketing manager at VM Fine Wines, a company specialized in the import and distribution of Italian wine in China. "I have to say that this edition has been very fruitful and very well organized, even more so than last year. There has been a large affluence and we are very satisfied. Although Italian wine in China still covers only a small market share, I'm confident that in time local consumers will develop a greater knowledge and awareness of wine in general and Italian wine in particular".
Vinitaly Chengdu was also the main protagonist during a press conference on Italian wine, "Italian Wine & the Chinese Market. How to unlock more opportunities", held on the afternoon of the first day and organized by Vinitaly International in collaboration with the Italian Embassy in Beijing and the Italian General Consulate in Chongqing. A number of this year's media partners were present at the press conference together with top importers, Italian wine producers and the founder of Wine In University, who presented the pilot test to be carried out on the occasion of the 50th anniversary of Vinitaly in Verona (in 28 Chinese universities in 12 Chinese provinces).