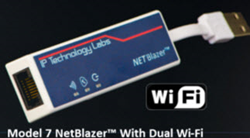 Customer's like lower costs while uncomplicating thier initiatives. IpTL delivers both with highly secure and transparent connectivity with our "World's Longest Ethernet Cable"
Baltimore, MD (PRWEB) March 28, 2016
IP Technology Labs, the leading provider of VoIP, Video/UC, LAN/WAN secure networking appliances, today announced that the United States Patent and Trademark Office has issued US Patent #9,294,4343 covering a method of connectionless communication. The proprietary technology fills-in specific technology gaps between how applications and devices automatically find, configure, connect, and communicate with each other.
"IpTL has always been a pioneer overcoming the challenges of the access network," said Scott Whittle, President of IP Technology Labs. "Our forward-thinking enables customers to uncomplicate their initiatives, particularly when connecting multisite VoIP, Video, and Unified Communications over the Internet. This patent is an important component of our overall intellectual property portfolio and underscores the marketplace momentum for connectivity anywhere, anytime, and with any device."
Connectionless communications is a key enabling technology addressing the growing needs of software defined networking (SDN) and Network Functions Virtualization (NFV.) Applications, devices, and Internet of Things (IoT) need a way to seamlessly communicate, configure, and respond to the network. IpTL employs this technology in all its FastLane appliances to enable automatically secure Ethernet connectivity.
As the World's Longest Ethernet Cable™ IpTL FastLane solutions place your LAN securely anywhere in the world while integrating all your wireless and wired devices seamlessly. Using any Internet connection an enterprise can create its own virtualized, private, and secure LAN network. IpTL appliances work especially well in network environments where NAT, Nested-NAT, or Dynamic-IP/DHCP is present on both ends of a link.
Contact marketing(at)IpTechnologyLabs(dot)com for additional information and opportunities to cooperate with IpTL.