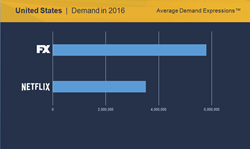 Beverly Hills, California (PRWEB) March 27, 2016
Building on the success of their popular digital original series, Netflix has commissioned 100 new shows. Very few of Netflix's rivals can match this volume of new shows, but a recent article featured FX's strategy to compete. Instead of trying to match the SVOD platform's number of new titles, FX focuses on creating a few quality shows, with personal attention and world-class marketing given to each one. In the article, FX CEO John Landgraf notes that due to Netflix's viewership remaining secret, FX is competing on an "unlevel playing field" as their own ratings are public knowledge. In an effort to level this playing field, Parrot Analytics has analysed the demand for both FX and Netflix series since January 2016. Has FX's strategy allowed them to compete effectively with Netflix?
Consumers express their demand for shows through various 'demand expression platforms' including video streaming sites, social media, blogging and microblogging platforms, wikis and informational sites, peer-to-peer protocols and file sharing platforms. Harnessing the power of cutting-edge artificial intelligence and hundreds of billions of data points across the various demand expression platforms, Parrot Analytics is able to combine the different methods consumers use to express their demand for content into the industry's first and only cross-platform global content demand rating system. Demand for a show is measured by Parrot's Demand Expressions™ – are a country-specific measure of the overall demand being expressed for a title in a given market. It is designed to enable the comparison of the audience demand for content in the same market – regardless of which platform the content airs on.
For the analysis, the Demand Expressions™ for 12 recent FX shows and 16 recent Netflix shows were averaged from January 1st to March 22nd (2016). The top five most in-demand titles from both FX and Netflix are ranked here by their Average Demand Expressions™:
1. American Horror Story (FX): 16,653,803 Average Demand Expressions™
2. It's Always Sunny In Philadelphia (FX): 13,546,033 Average Demand Expressions™
3. Fuller House (Netflix): 12,263,437 Average Demand Expressions™
4. Fargo (FX): 9,033,197Average Demand Expressions™
5. House Of Cards (Netflix): 7,815,104Average Demand Expressions™
6. Orange Is The New Black (Netflix): 6,558,494 Average Demand Expressions™
7. Jessica Jones (Netflix): 6,529,031Average Demand Expressions™
8. The People v. O.J. Simpson (FX): 6,451,833 Average Demand Expressions™
9. Daredevil (Netflix): 5,956,323 Average Demand Expressions™
10. Man Seeking Woman (FX): 5,038,286 Average Demand Expressions™
Though Netflix's most recent releases, especially Fuller House, are certainly popular, two of FX's longest-running series—American Horror Story (5 seasons) and It's Always Sunny in Philadelphia (11 seasons)—have the highest average demand over this time period.
Overall, there has been more average audience demand for FX over Netflix content over the last quarter. FX's titles have about 1.65 times the demand of Netflix's titles from January to March. One factor for this difference may be the release strategies employed by the platforms. Since Netflix releases all episodes of a season at once, the demand has been observed to peak highly for the few days after release but then drop off quickly. In contrast, the traditional weekly episode releases from FX maintains an elevated level of demand for shows over time, resulting in a higher average demand over time. Of course, this effect would not matter if FX did not produce popular, in-demand content.
From this analysis, FX's strategy of focusing on high-quality series is competitive with Netflix's many original productions.
About Parrot Analytics
Parrot Analytics is a data science company that empowers media companies, brands and agencies to understand global audience demand for television content. Wielding the world's largest audience behavior data sets, the company has developed the world's only global cross-platform, country-specific audience demand measurement system.
Parrot Analytics captures an unprecedented spectrum of actual audience behavior including video streaming consumption, social media, blogging platforms, file-sharing and peer-to-peer consumption spanning 249 countries. This enables media companies, for the very first time, to understand audience demand for content across all content distribution platforms in all markets around the world.
For more information visit http://www.parrotanalytics.com