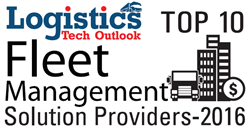 Fremont, CA (PRWEB) March 28, 2016
Thingtech Achieves Logistics Tech Outlook's Ranking for Top 10 Fleet Management Solution Providers 2016
Thingtech, the most trusted provider of fleet and asset management software and services, joins an elite number of companies that have earned a spot on top 10 Fleet Management Solution Providers list of 2016 by Logistics Tech Outlook.
In a deliberate session with the honorary industrial experts, a list of top 10 Fleet Management Solution Providers 2016 has been concluded with. The positioning is based on evaluation of Thingtech's specialties in vehicle and asset tracking, schedule and route optimization and asset management. It gives actionable feedback in pursuit of optimal fleet efficiency by visualizing the fleet. It effectively reduces mileage, fuels expense, improves driver behavior and tracks the fleet and assets in real-time.
"Thingtech continued to break new ground within the past year, benefiting its customers," said Linda James, Managing Editor, Logistics Tech Outlook. "We are happy to showcase Thingtech this year due to its continuing excellence in delivering top-notch technology driven solutions."
To read the full article online, please click the following link:
http://www.logisticstechoutlook.com/vendor/article13/thingtech
About Logistics Tech Outlook
Published from Fremont, California, Logistics Tech Outlook is a print magazine that explores and understands the plethora of ways adopted by firms to execute the smooth functioning of their businesses. A distinguished panel comprising of CEOs, CIOs, VCs, analysts including Logistics Tech Outlook editorial board finalized the "Top 10 Fleet Management Solution Providers 2016" in the U.S. and shortlisted the best vendors and consultants. For more info: http://www.logisticstechoutlook.com/
About Thingtech
ThingTech is an Atlanta-based software company that builds solutions that combine Enterprise Fleet and Asset Management, Route Optimization, Field Service, and Internet of Things (IoT) applications into a single, cloud-based, connected platform for real time enterprise connected asset intelligence.
For more info: http://www.thingtech.com/