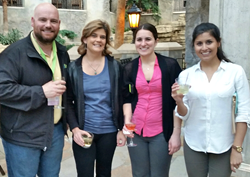 Public Works agencies are vital to the industry and provide an important voice in the education and growth of NASTT.
Alameda, CA (PRWEB) March 29, 2016
TRIC Tools, Inc. showcased its pipe bursting technology at the annual National Association of Trenchless Technology (NASTT) No Dig Show in Grapevine, TX. This year's conference took place March 21st through March 23rd at Gaylord's Resort & Convention Center, 1501 Gaylord Trail, Grapevine, TX 76051. CFO Michael Lien and Sales Engineer Brennan Lunzer represented TRIC Tools at the Show.
TRIC displayed its state-of-the-art 30-ton lateral Pipe Bursting system, along with its "ground breaking" 50-ton M50 unit. Both of these units use a wire rope to statically pull a splitting wedge through the ground, simultaneously breaking the old pipe apart and pulling a new polyethylene pipe in its place. The equipment TRIC presented at the show was capable of replacing ¾" through 8" pipes. TRIC's M100 unit is capable of replacing pipe sizes from 6" through 12" pipe.
This year's "No Dig Show" was in its largest venue to date and by appearances one of the best attended "No Dig Show" in recent memory. In addition, many international visitors were in attendance. After setting up their Booth on Sunday, March 20th, TRIC joined the West Regional Trenchless Association meeting. The meeting's purpose was to setup WEST's year-end Trenchless Association Conference. After the meeting, TRIC joined other attendees at the Municipal Scholarship Recipient networking event. Attendees at the event were from Alaska, North Carolina, Northern and Southern California, Utah and from various parts of Canada. Michael and Brennan had the opportunity to meet Castro Valley's Landon Lochrie, Central Sanitation's Amy Hernandez and East Bay Municipal District's Krista Moita and Elena Dudek at the event. The NASTT established the Scholarship to encourage more participation from the public works agencies. "These agencies are vital to the industry and provide an important voice in the education and growth of everyone involved in the association," said Michael Lien. The scholarships pay for hotel and conference registration. Lien continued, "Brennan and I really enjoyed our visit with the Grandfather of Horizontal Directional Drilling (HDD) Martin Cherington." Mr. Cherington conceived and invented the use of Horizontal Directional Drilling as an alternative to conventional trenching methods for the installation of underground pipelines beginning in the 1960's.
While at the conference, both Brennan and Michael participated in the conference's pipeline rehabilitation educational seminars. Some of the Abstracts that TRIC enjoyed were:

Silicon Valley Pipe Bursting upsizing a 12" VCP pipe to 20" polyethylene pipe near Avaya Soccer Stadium in San Jose, CA. Colins Orton of TT Technologies presented the project.
Planning, Desiging and Executing an Asbestos Concrete Pipe Bursting Project with Municipal Forces presented by Edward Ambler with the City Casselberry and Craig Schreiner of McElroy Manufacturing.
TRIC's Pipe Bursting units combine compact size and harness enough power to burst 4" to 6" laterals in an attractive package. TRIC has led the way in providing Lateral Pipe Bursting equipment for contractors since 1996.
TRIC invented and patented the first practical Lateral Pipe Bursting System while simultaneously gaining national approval of HDPE pipe for its use, thus opening the market for trenchless home sewer replacement in America. TRIC has since added municipal cable pulling systems to its arsenal, always employing their formula of modular portability, including pneumatic and steel splitting heads designed to replace various pipe sizes from 1/2" to 12" diameter.
For more information about Trenchless Pipe Bursting equipment or the Trenchless Industry in general - please call 888-883-8742 or visit TRIC's website at: http://www.trictrenchless.com to see how they can answer any of these questions for you. Get your Trenchless Sewer and Water Replacement service off on the right foot, and help get you profitably pipe bursting.