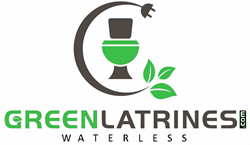 That's about it, enter at your own risk. It's disgusting!
San Antonio, TX (PRWEB) April 05, 2016
It is routine for the professionals from the oil and construction industry to go to remote areas for their work. Such areas are always a problem when it comes to hygienic, comfortable, and odorless restrooms. Green Latrines also launched a new video on YouTube to show off the new all electric, water-less Green Latrines toilet and illustrate what everyone currently endures in remote locations.
While out in the remote areas of South Texas an entrepreneur and his team who runs a multi-million dollar modular building company noticed something incredible while expanding into a service business in South Texas. The weather outside was unbelievably hot somewhere in the triple digits. They asked where they could use the restroom. The security team onsite pointed to a blue portable toilet and said "that's about it, enter at your own risk. It's disgusting." One of the women that work in the oil fields said "I have only been in one of those one time in my life and I will never, ever do it again." They were all a bit perplexed because she works out there five days a week 10 hours a day. He saw incredible opportunity that apparently no one is thinking about.
Somethings have not changed in years, yet other things change at a rapid pace. What the entire team noticed is that no one wants to use a stinky, dirty portable toilet. So he and his team accepted the challenge and developed the world's first water-less, electric and green restroom especially used in remote areas. The toilets are exactly what is needed in remote areas as they do not require the water supply or any sewer drainage system
Yes, it is a bit surprising in how can there be a restroom without a water supply or a drainage system. But, it does exist just because of Green Latrines. As the name illustrates, restrooms are environmentally friendly because they neither waste water nor do they create any pollution. The enclosures are modular and made into units which mean that assembling and replacement of any parts is not at all a headache. The base of the enclosure is made up of aluminum which makes it light weight and rust free. Hence, the restrooms are portable and can be delivered easily.
"We are all excited about this new innovative product," said Tim Westberry the general manager of Green Latrines.
Since there is no water supply in the restrooms, the Green Latrines provide paper towels and hand sanitizers for users to clean their hands after doing the business. After the users are finished, they just have to push the foot pedal and to start. The electric toilet will uses electric current of 120V and everything will be turned into ashes. It accommodates between 8 and 10 people full-time. Currently it is not made for large use. However, newer models are in the works to add even better technology.
Green Latrines has launched and has solved the problem for many people. Now Oil personnel, and the construction professionals go to the inaccessible areas without worrying about the restrooms. Green Latrines is currently serving customers from San Antonio to Houston Texas and other southern cities in between. In addition they are currently seeking partners, investors and licensees in all areas of the country and the world. You can see more by logging on to http://www.greenlatrines.com for further details.