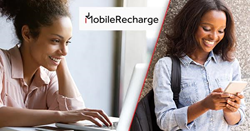 Effortless. Fastest transaction ever! Fair cheap fee. Trustworthy. (Malou Fernandez on Trustpilot.com)
Atlanta, Georgia (PRWEB) March 30, 2016
The African diaspora worldwide gets the chance to save money when sending mobile credit to their friends and family in their motherland. This is possible due to the frequent offers on MobileRecharge.com that get as high as 200% Bonus credit for local and international calls or data in such countries like Mali, Guinea, Senegal, Guinea Bissau, Ivory Coast, Madagascar, Central African Republic, South Africa, Liberia and Guyana: http://mobilerecharge.com/promotions
This month, a 100% Bonus applies on top ups to Cellink mobiles in Guyana. The Bonus can be used for calls & texts to the USA, Canada and all networks in Guyana within 7 days from the day it is received. Whatever the amount selected on MobileRecharge.com, 100% free extra mobile credit is automatically added on top ups sent to Cellink mobiles in Guyana from any part of the world. The offer is valid until March 31, 2016 (23:59 EST) and addresses anyone who has a free account on MobileRecharge.com. More specifically, friends in Guyana using a Cellink mobile receive double the amount ordered. A big advantage is that the Bonus applies for any amount between $5.19 and $25.95: http://guyana.mobilerecharge.com/buy/mobile_recharge
As old customers state on Twitter and on review platforms like Trustpilot.com, the online international top up process is fast. It takes less than 1 minute to order the online top up, and few seconds for the amount to get to the destination in Africa.
Weekly promotions on MobileRecharge.com address travellers in Africa or African people whose relatives or friends use Cellink, Orange, Digicel or Tigo. For them, Bonuses apply to long-distance top ups made online on MobileRecharge.com or from the MobileRecharge app. Each order requires a processing fee, but the fee is the smallest on the global market.
Promotions help African expats save money and time on their mobile recharges to people back home. Per customer feedback, MobileRecharge.com has optimized the website and it now takes less than 1 minute to carry out the online top up from PC, smartphone or tablet.
Promotions can be checked on the page called Promotions on MobileRecharge.com or from the free app MobileRecharge, available for iOS and Android devices.
No matter what popular culture may have to say about saving money, everybody is interested in it. Promotions are updated daily on the website in the morning (EST), and those who need to get informed can press "Get offers" in the footer of the website and get the major notifications by email. The easiest way though is to Like their Facebook page for real time news feed on the most interesting offers: https://www.facebook.com/MobileRecharge.Fan/
MobileRecharge.com, the platform dedicated to multi ethnic expat groups and travellers worldwide, enhanced its promotional map to the African countries. This way, MobileRecharge.com gives African-origin expats worldwide the chance to support their families and friends from abroad by sending mobile credit for their local communication, as well as a Bonus.
According to review platforms, what makes customers remain loyal to MobileRecharge online service is the clear integration of superior customer service and high attention for needs and feedback, as well as the team's constant preoccupation to maintain the highest standards of technology and affordable processing fees. What makes the service even more attractive and trustworthy are the 24/7 Customer Service and a comprehensive Help Center.
Labels and certificates in the footer of the website prove that MobileRecharge.com guarantees 100% transaction security and satisfaction. All major payment methods are accepted: Visa, MasterCard, American Express, Discover and PayPal.
Customer reviews point out several important reasons why they picked MobileRecharge.com:
-Transactions are 100% safe; the service bears the label "Verified & Certified."
-Paypal payment is accepted besides all major cards, no matter the currency or country of the customer.
-The service is among the easiest to use on the global market.
-There are daily promotions always running on the "Promotions" page, or on the MobileRecharge app.
-MobileRecharge app is available for Spanish or English speakers who want to refill on the go.
-The website is available in several languages: English, Spanish, German, French and Italian.
-Customer Service is seen as highly supportive; it is available 24/7 in both Spanish and English, and other international languages.
-Video tutorials are available on YouTube for independent users on MobileRecharge.com page.
MobileRecharge.com is an interactive website designed by KeepCalling, a global telecommunications company registered in 2002 in USA. Presently, KeepCalling provides its services to hundreds of thousands of consumers and businesses, with a focus on customer satisfaction. KeepCalling has been listed by Inc 5000 as one of the fastest growing companies in the USA for 5 consecutive years. In 2015 the company registered a revenue increase of over 200% from 2011 to 2014. MobileRecharge.com is the first brand in history who initiated on November 10, 2015 World Top Up Day to celebrate top up givers worldwide.