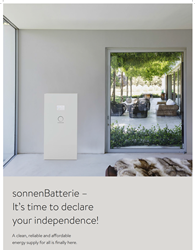 Solar will only enhance my vision for Punta Bocana, after all why stop at what works when you can make it better, smarter, and more beautiful? Design is the art of evolution...Abraham Valenzuela
(PRWEB) March 31, 2016
At Punta Bocana, we are constantly researching new and innovative technologies that fit our commitment to realize the magical combination of luxury and sustainability. In researching renewable energy options, Punta Bocana found that its Pacific Coast location could counterbalance nearly all of its energy costs through the most advanced and innovative solar system in the world today: the Mitsubishi Diamond Premium MLE 275W utilizing the sonnenBatterie system.
"We are honored to be a part of the first solar project for Punta Bocana in Costa Rica," said Kiyoshi Furukawa, president and CEO of Mitsubishi Electric US, Inc. "This installation demonstrates Punta Bocana's leadership and strong commitment to the environment."
The system will offset nearly 100 percent of each home energy usage throughout the day and provide evening energy and power back-up - the first of its kind in Costa Rica.
The numbers are startling. The system is expected to produce 919,800 kWh in the first year of production, resulting in a CO2 offset of 977 tons. To put it another way: This amount of CO2 offset would be the equivalent of planting 4,492 trees every year or 146,760 trees over the life of the system!
"Turning to solar energy not only aligns with Punta Bocana's environmental philosophy but our business model as well," said Thomas Walker, Project Manager of Punta Bocana, It's a great feeling to know that our owners will realize a huge benefit by reducing energy costs and utilizing a clean renewable resource."
Any sufficiently advanced technology is indistinguishable from magic. – Arthur C. Clarke
About Punta Bocana
From the inception of Punta Bocana, our goal has been a demanding but unwavering vision: to create a habitat that simultaneously embraces, confronts, and redefines the concepts of Exclusivity, Luxury, & Prestige.
Juxtaposing the magnificent natural elements of the Costa Rican rainforests and coastline, we have vigilantly crafted a style in an unparalleled setting with the highest levels of architectural design and sustainability.
Punta Bocana is a haven for a select few who command and deserve an environment which affords them the capacity to interact with compatible neighbors or to completely disengage into the privacy of their own personal space.
Uncompromising quality. Categorical value. In essence, the foundation of a legacy.