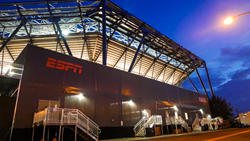 Congratulations to all who participated at this years World of Modular "Awards of Distinction". Triumph Modular is proud of our colleagues accomplishments and applaud their continued success.
Littleton, MA (PRWEB) March 30, 2016
At the 33rd Anniversary World of Modular convention, held in San Diego, the Modular Building Institute presented awards for this year's best modular buildings. A prestigious panel of judges scored building entries on a number of criteria such as architectural excellence, technical innovation and sustainability and cost effectiveness. "This year's Awards of Distinction contest was very competitive, with over one hundred entries overall," said Tom Hardiman Executive Director of the Modular Building Institute. "Our panel of independent judges had some tough choices to make, so I congratulate Triumph Modular on winning this award."
The modular building construction industry is committed to setting a standard for excellence in commercial modular construction through our Awards of Distinction program," said Tom Hardiman, executive director of MBI. "This year's contest was particularly competitive, demonstrating that the faster, greener, smarter benefits of the modular construction process are becoming more widely accepted by owners and developers worldwide."
The ESPN Broadcast Village project consisted of 2 separate buildings a 2 story broadcast media complex and a single story 12 unit administrative building. Both facilities were manufactured in the early part of summer, erected on site and completed in time for the equipment to be moved in and ready for the August 31st start of the US Open. The electrical and mechanical requirements for the broadcast media complex were highly specialized and required careful coordination by the Triumph team. Triumph used their design experience to assist in choosing durable yet attractive finishes. The 2 modular buildings will be deconstructed and reassembled yearly for the US Open. A special thank you goes out to all of our staff, sub-contractors and the excellent team at ESPN who made this possible. ESPN Broadcast Village
ABOUT TRIUMPH
Triumph Modular Inc. has been in business since 1981. Today we operate in two distinct markets with two separate divisions.
The "Permanent Modular Construction" (PMC) division we are hired mostly as a Design Builder or Construction Manager to oversee and manage the design, fabrication and installation of permanent custom buildings, using the "off site" or "accelerated" form of construction. Our buildings are built to near completion in a factory and then installed on site, a process that is inherently less site disruptive and more efficient than traditional forms of construction.
Our "Relocatable Buildings" division provides temporary space which is purposeful and fulfills the needs of our repeat customers throughout many industries. Examples of temporary modular construction include construction trailers, office space, temporary school buildings and emergency housing.