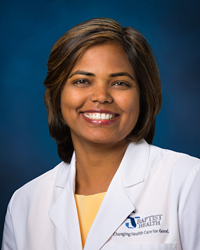 Jacksonville, Fla. (PRWEB) March 28, 2016
Baptist Health and Baptist Heart Specialists are providing comprehensive minimally invasive treatment for conditions impacting valves of the heart with a new Valve Clinic and the naming of a Structural Heart director.
The Valve Clinic at Baptist offers expert diagnosis and treatment from a multidisciplinary team of interventional cardiologists, cardiothoracic surgeons and electrophysiologists specializing in minimally invasive techniques. The clinic is led by nationally known interventional cardiologist Ruby Satpathy, MD, FACC, FSCAI.
Dr. Satpathy recently joined Baptist Heart Specialists as director of the Structural Heart Program. She previously was director of the Valve Clinic and director of the Structural Heart Program at CHI Alegent Creighton Heart and Vascular Institute in Omaha, Neb., where she was co-chair of the Transcatheter Heart Valve Therapy Committee for National CHI (Catholic Health Initiatives) and assistant professor for Creighton University.
"We are pleased to have Dr. Satpathy's expertise at Baptist Health and look forward to working with her and our other physicians as we build an even more comprehensive structural heart program for the patients in our region," said Ron Roberts, cardiovascular service line director for Baptist Health.
Dr. Satpathy started the Valve Program at Alegent in 2010, where she was the first in Nebraska to perform numerous heart valve procedures with a catheter inserted through the femoral artery/vein in the leg instead of open-heart surgery. Dr. Satpathy performed Omaha's first transcatheter aortic valve replacement (TAVR) procedure in 2012 and Nebraska's first percutaneous mitral valve repair (MitraClip®) in 2014.
TAVR, which started at Baptist Health last year, is designed for people with symptomatic aortic stenosis who are high risk and considered poor surgical candidates for open-heart surgery because of age, Chronic Obstructive Pulmonary Disease (COPD), or other factors.
MitraClip is a minimally invasive procedure for people with mitral regurgitation, which is caused by a leaky heart valve. If not treated, mitral regurgitation can cause other, more serious heart problems, such as heart failure.
"Dr. Satpathy brings us a new range of cardiac treatment options not previously available in our region," said Don Cousar, MD, cardiothoracic surgeon and chief of staff for Baptist Medical Center Jacksonville. "She enhances our existing program immeasurably. Baptist Health is very fortunate to have her on our team."
Some procedures being offered include not only TAVR and the MitraClip®, but WATCHMAN ™ and LARIAT® devices, which are minimally invasive procedures to close the heart's left atrial appendage. The procedures are for people with atrial fibrillation who have experienced bleeding issues with blood thinners. Other catheter-delivered procedures will help correct atrial septal defects (ASD)/patent foramen ovales (PFO), which are holes in the heart.
"Combining an extremely high level of clinical expertise with the technological advances of Baptist Heart Hospital allows us to bring more life-changing heart treatments and procedures to the community," said Michael Mayo, FACHE, hospital president of Baptist Jacksonville.
The new Valve Clinic is providing patients who have complex valve conditions a single location where they can consult with multiple specialists all in one day and receive heart testing needs. The clinic hosts weekly Valve Conferences where a multi-disciplinary group of physicians, including cardiologists, cardiothoracic surgeons, and anesthesiologists, meet regularly to review cases and create the best individualized patient treatment plan.
"I'm excited to be here at Baptist Health, serving the people of Northeast Florida and Southeast Georgia with my knowledge and skills," Dr. Satpathy said.
C. David Hassel, MD, FACC, chief of cardiology at Baptist Jacksonville, added, "We are very pleased and excited to welcome Dr. Satpathy in joining us at Baptist Heart Specialists. Her addition further illustrates Baptist Jacksonville's and Baptist Heart Specialists' dedication and commitment to provide the most complete and comprehensive cardiac care for our patients."
For more information about the Valve Clinic and Baptist Health Structural Heart Program, contact 904.202.9500 or go to baptistjax.com/valve.
###
About Baptist Health
Baptist Health is a faith-based, mission-driven system in Northeast Florida comprised of Baptist Medical Center Jacksonville; Baptist Medical Center Beaches; Baptist Medical Center Nassau; Baptist Medical Center South; Baptist Clay Medical Campus and Wolfson Children's Hospital – the region's only children's hospital. All Baptist Health hospitals, along with Baptist Home Health Care, have achieved Magnet™ status for excellence in patient care. Baptist Health is part of Coastal Community Health, a regional affiliation between Baptist Health, Flagler Hospital and Southeast Georgia Health System forming a highly integrated hospital network focused on significant initiatives designed to enhance the quality and value of care provided to our contiguous communities. Baptist Health has the area's only dedicated heart hospital; orthopedic institute; women's services; neurological institute, including comprehensive neurosurgical services, a comprehensive stroke center and two primary stroke centers; a Bariatric Center of Excellence; a full range of psychology and psychiatry services; urgent care services; and primary and specialty care physicians' offices throughout Northeast Florida. The Baptist MD Anderson Cancer Center is a regional destination for multidisciplinary cancer care which is clinically integrated with the MD Anderson Cancer Center, the internationally renowned cancer treatment and research institution in Houston. For more details, visit baptistjax.com.