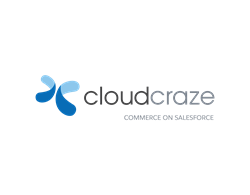 Chicago (PRWEB) March 29, 2016
CloudCraze, the enterprise commerce platform built natively on Salesforce, announces Eric Marotta as director of product marketing. With more than eight years of leadership experience in the industry, Marotta will head the product promotion, sales, and communication development for the CloudCraze product marketing team.
Marotta has been a pioneer in commerce and predictive customer analytics solution strategies for several major B2B commerce players, including SAP Hybris, Apttus, and IBM Sterling. Among other accomplishments in his professional career, Marotta has spearheaded the definition and development of customer enablement and communications to drive the sales cycle, driven the go-to-market strategy for revenue management portfolios, and defined and managed product-line strategies.
"Eric has extensive experience leading large, complex teams in the dynamic B2B commerce market and is going to be a major asset to our product marketing team," said Andrew Witherspoon, executive vice president of global sales and alliances. "At CloudCraze, we're committed to building a solution that is truly focused on product, customer, and employee success, and we are excited to tap his passion for the industry to exceed our 2016 business goals."
This new hire comes on the heels of several major announcements for CloudCraze. Along with its expansion into the EMEA market and several new major client wins, including Kellogg's and Hexagon Manufacturing Intelligence, CloudCraze was recently named to the 2016 Gartner Magic Quadrant for Digital Commerce for its visionary solution.
"CloudCraze offers unparalleled value to the Salesforce ecosystem and larger commerce marketplace as a true enterprise-level SaaS solution," said Marotta. "This does not exist elsewhere in the market and I'm thrilled for this opportunity to contribute my experience to the CloudCraze team."
About CloudCraze
CloudCraze delivers robust B2B and B2C eCommerce native on Salesforce. CloudCraze enables clients to deploy mobile storefronts quickly, generate online revenue in weeks, and easily scale for growth. In a single Salesforce instance, CloudCraze shares data and processes with existing Salesforce Sales, Service, Marketing, and Community Cloud deployments and it's all easily managed through the point-and-click Salesforce interface. CloudCraze powers eCommerce for Coca-Cola, Avid, Barry-Callebaut, Ecolab, GE, L'Oreal, and Kellogg's.