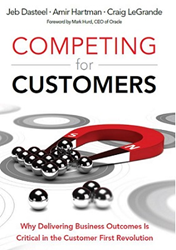 Cisco is convinced that supporting customer success, from opportunity identification to delivery of business outcomes, will create real differentiation for the company. After all, customers are demanding it for good reason.
Castle Rock, Colo. (PRWEB) March 31, 2016
Sandy Hogan, vice president of the Business Transformation team at Cisco, shares how Cisco fundamentally is changing its sales organization to achieve its goal of outcome-oriented business engagements in Competing for Customers: Why Delivering Business Outcomes is Critical in the Customer First Revolution. Co-authored by Oracle Chief Customer Officer Jeb Dasteel and Mainstay Co-founders and Managing Directors Amir Hartman and Craig LeGrande, the book provides practical strategies and insights for cultivating customer success.
In Competing for Customers, Hogan shares how Cisco reevaluated every aspect of the company – including employee roles and responsibilities to compensation – to launch a major investment in transforming its sales organization. Cisco's goal is to drive the delivery of integrated strategies that enable business outcomes and ensure customers realize the full value of their technology investments. For Hogan and her team, success is all about applying deep expertise, communicating, demonstrating, and ensuring that Cisco solutions deliver business outcomes that matter to its customers. Competing for Customers' analysis of Cisco's business outcomes approach includes the following observations:

"Cisco offers customers an ability to independently estimate business outcomes through a set of online business-value tools that draw from industry benchmarks and business results gathered from the experiences of hundreds of companies."
"Cisco is convinced that supporting customer success, from opportunity identification to delivery of business outcomes, will create real differentiation for the company. After all, customers are demanding it for good reason."
Business-to-business customer expectations have changed. To survive – and thrive – in today's economy, where customers constantly reevaluate their purchases and look at cutting edge options never available before, organizations must prioritize customer outcomes. Delivering customer success means radically changing the way organizations engage with customers – from sales, to marketing, to engineering and support.
Competing for Customers presents a framework for this critical transformation. The authors – Dasteel, Hartman, and LeGrande – identify the unifying principles and tactics of customer success delivery and guide readers through every step of planning and executing success, including providing clear tools and templates based on actual practices that are leading the way. The book provides business leaders with a roadmap for delivering customer success by changing the way organizations engage with their customers. Learning from industry customer success innovators like Sandy Hogan and executives from Rockwell Automation, GE, and Telogis, readers understand how to make sure their customers are achieving measurable business outcomes.
Competing for Customers was recently published by Pearson. For more information and to purchase a copy, visit: http://www.competingforcustomers.com. Through April 2, a specially priced electronic version of the book is available at Pearson's eBook Deal of the Week site.
About Sandy Hogan
As Vice President, Business Transformation at Cisco, Sandy Hogan leads a high-energy team focused on transforming how Cisco works with Customers so they can in turn deliver business value. Follow Sandy @sandyhogan.
About Jeb Dasteel
Jeb Dasteel holds the position of Senior Vice President and Chief Customer Officer at Oracle. He is responsible for driving the relentless focus on customer success into all aspects of the Oracle business. Follow Jeb @jdasteel.
About Amir Hartman
Amir Hartman, founder and managing director of Mainstay, is a leading authority on corporate and technology transformations, and works with customers to help develop and execute customer success strategies. He is the author of several influential books, most recently Ruthless Execution (Pearson, 2014). Follow Amir @amir_hartman.
About Craig LeGrande
A senior advisor to leading high tech companies, Craig LeGrande is founder and managing director of Mainstay and co-author of Ruthless Execution. LeGrande leads a world-class team helping clients deliver innovative customer success strategies. Follow Craig @craig_legrande.
About Mainstay
Mainstay is a recognized leader in helping organizations design and execute innovative customer success programs. Mainstay serves as an independent advisor to some of the most admired companies in the world. For more information visit http://www.mainstaycompany.com.