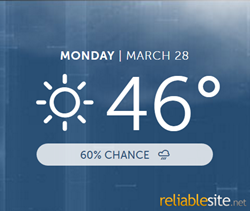 Miami, FL (PRWEB) March 29, 2016
In 2016 DDoS attacks targeted at ReliableSite's network and dedicated servers, have increased as much as 27%. To protect its hosting customers, the company is announcing support for a vital feature: protection for up to 100 Gbps DDoS attacks.
The importance of DDoS protection cannot be understated. ReliableSite receives large attacks on its network, as well as multiple attacks of smaller size in single instances. These attacks are unpredictable and therefore dangerous to businesses that need to be up and running consistently. Even a short denial-of-service attack, if it is able to reach a server when no protection is in place, can cause a business to lose revenue or even their reputation in their industry.
ReliableSite continues to offer free DDoS protection on all servers, which can now be upgraded in increments up to 100 Gbps.
Customized Protection
ReliableSite's DDoS protection is provisioned in-house and does not use tunneling, which means no added latency or effect on network performance. Attacks are instantly mitigated when they reach the network. The company allows dedicated server administrators to customize their traffic filtering on a per-IP basis. This allows users to cater to their own customers' applications and "whitelist" certain IPs sending requests to the server.
After the attack is filtered, ReliableSite provides a full report on the incident. This includes information about the size and duration of the DDoS attack and a sample of the traffic detected.
Today's DDoS Forecast
The company tracks DDoS attacks directed at its dedicated hosting customers, based on intensity and frequency. Their "DDoS Forecast" tool graphs live attack information in the style of a weather report. Temperature correlates with attack intensity and the percent chance of rain represents attack frequency. A "hot" day with a high change of "rain" is a bad day for internet security.
The DDoS attack forecast ultimately shows what is apparent in the hosting world: attacks are inevitable. Those concerned about the security of their dedicated servers will see that the size and frequency of attacks on a specific day is relative. The largest attacks and multiple attacks in one instance set the bar on what kind of protection is necessary in hosting.
Now, dedicated server owners will have the ability to protect themselves from attacks, large or small, that are becoming more common.
ReliableSite was founded in 2006 and has grown to provide unmanaged, enterprise-grade dedicated servers and fully-managed dedicated hosting solutions in the New York City metro area and Miami, FL. ReliableSite offers 100% uptime SLAs and support staff who are on-site 24 hours a day.
Visit ReliableSite.Net to find out more about the company's dedicated hosting products and services.