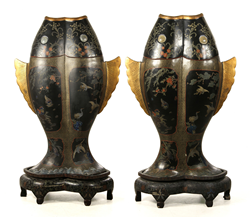 Beverly, Massachusetts (PRWEB) March 29, 2016
Kaminski Auctions presents a single-owner unreserved auction comprised of the lifelong collection of a Kansas City, Missouri family on Saturday, April 9th, 2016.
The family's collecting interests were wide and varied. Among the highlights of their collection is a large selection of important East Asian art and antiques.
A Chinese Song dynasty pottery jar from the Henan province of China of ovoid form with a black glaze and decorated with vertical ribs was purchased from Sotheby's in their September 28, 2001 auction as lot #8197. Standing 7 3/4inches high, it is valued at $6,000-$8,000. Other Chinese antiques include a Ming dynasty Luduan form bronze censer on an ornately carved wood base valued at $8,000-$10,000 and a Qing dynasty green jade censer of archaic form valued at $3,000-$5,000.
There is also an important Qinglong period cobalt blue glazed Li Ding sacrificial vessel estimated at $2,000-$4,000.
Important Japanese art in the sale includes a Yagi Kazuo (Japanese, 1918–1979), black glazed pottery piece in the Sodeisha style titled "Sleep". This rare circa 1974 contemporary piece of pottery comes with the original paperwork and box and is valued at $20,000-$30,000.
There is also an interesting pair of monumental Meiji period Japanese lacquer ware, double fish form vases that were exhibited in the 1904 Louisiana Purchase Exposition in St. Louis, Missouri. Decorated with cranes, birds, foliage and ocean waves and sitting on carved wood bases with Greek key design these vases are sure to garner the interest of collectors.
A 19th-20th century Dehua Blanc de chine reclining porcelain figure and a 17th-18th century silk Tibetan thangka round out the top Asian lots in the sale.
Fine art offerings include a Jan Jacob Spohler (Dutch, 1811-1866) winter scene valued at $15,000-$20,000 and an18th century Peruvian school Saint Joseph and christ child oil on canvas originally purchased at Sotheby's New York, May 9, 1980. There are also several Roger Norman Medearis (American, 1920-2001) pencil sketches, signed and dated of Missouri landscapes valued at $1,200-$1,500 each. Roger Medaris was a student of the celebrated artist Thomas Hart Benton.
Other items of interest in the sale include a Lenci "La Sirenetta" porcelain figure, a 12th century central Iranian Kashan luster bowl and a rare Moore & Co. sterling silver pitcher with dedication, one of two known examples known to exist, the other being displayed in the New York Historical Society Museum in New York City.
Preview for this exciting auction is Wednesday - Friday, April 6th - 8th, 10:00AM – 5:00PM and day of sale beginning at 8AM at the Kaminski Auction gallery, 117 Elliott Street, Rt. 62, Beverly, Massachusetts.
For more information call 978-927-2223 or go to the new Kaminski Auctions website at http://www.kaminskiauctions.com and sign up to bid with KaminskiLIVE.