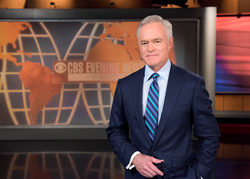 Phoenix (PRWEB) March 28, 2016
Thirty-five years ago this month, Walter Cronkite signed off for the final time as anchor of the "CBS Evening News." Today, Arizona State University announced that distinguished and award-winning journalist Scott Pelley, who now sits in Cronkite's former anchor chair, will be the 2016 recipient of the Walter Cronkite Award for Excellence in Journalism.
Pelley, anchor and managing editor of the "CBS Evening News" and a correspondent for "60 Minutes," will receive the 33rd Cronkite Award, given by ASU's Walter Cronkite School of Journalism and Mass Communication at a ceremony Nov. 21 at the Sheraton Grand Phoenix hotel. He also will broadcast the "CBS Evening News" that day live from the Cronkite School on ASU's downtown Phoenix campus.
"Walter became known as 'Uncle Walter' to an admiring audience, but he was truly like an uncle to me," Pelley said. "In our conversations, he pressed me to be honest with the audience, skeptical of conventional wisdom, and grateful for my family. His advice and his example are more urgent today than at any time. I'm greatly humbled by this recognition from the Cronkite School because it comes in the name of a man I knew, admired and loved."
Pelley, who assumed the anchor desk in 2011, has led the "CBS Evening News" to new heights by growing its audience and winning journalism's most prestigious awards, including the George Foster Peabody Award, an Alfred I. duPont-Columbia Award, two George Polk Awards, five Emmys, five Edward R. Murrow Awards and a host of additional honors. He also serves as a full-time correspondent on "60 Minutes," where he has recently reported from Iraq on the front lines in the battle against ISIS; covered the Paris terrorist attacks; interviewed CIA Director John Brennan; and uncovered critical lapses in the U.S. security clearance process that millions of people must pass to work with America's secrets.
"CBS News, for many, is synonymous with Walter Cronkite. ASU and this award continue the best values of the Cronkite legacy," said CBS News President David Rhodes. "We are so pleased that the journalism school recognizes the continuation of this important legacy through the impressive work Scott Pelley is doing for our audiences every day."
"The CBS Evening News is built largely around the core values of excellence espoused by Walter Cronkite," said Steve Capus, executive producer of the "CBS Evening News with Scott Pelley" and executive editor of CBS News. "Scott Pelley not only exemplifies what it means to be a member of this proud news organization, but is also an outstanding ambassador on behalf of our beloved profession. We're all proud of Scott, and I'm sure Walter would be as well. He is most deserving of this great honor."
Cronkite School Dean and University Vice Provost Christopher Callahan said honoring Pelley is particularly appropriate this year. Cronkite would have been 100 years old this November.
"No one today better represents the legacy of Walter Cronkite – and his values of accuracy, objectivity and integrity – than Scott Pelley," Callahan said. "We are honored to have him at ASU and look forward to having him meet with the students, faculty, alumni and friends of Walter's school."
Pelley has more than 40 years of journalism experience and has covered almost every major news story of the past quarter century. He has interviewed world leaders and top newsmakers, including Presidents Barack Obama and George W. Bush, Supreme Court Justice Sonia Sotomayor, Federal Reserve Chairman Ben Bernanke and Afghan President Hamid Karzai. He also conducted the only interview with one of the U.S. Navy SEALs who helped kill Osama bin Laden.
He joined CBS News in 1989 and reported on the Persian Gulf crisis, covering Iraqi missile attacks on Saudi Arabia. He later served as a Dallas correspondent and covered the Oklahoma City bombing and the trial of Timothy McVeigh. He also was among the first journalists to report from the World Trade Center site during the Sept. 11 attacks. In 2004, Pelley became a correspondent for "60 Minutes." His work on that program has won 29 Emmys, five Murrow Awards, three Peabody Awards, two duPont Awards, a Polk Award and a host of other honors.
Prior to joining CBS News, Pelley was a producer/reporter for television stations in Texas. He started his journalism career as a copyboy at the Lubbock Avalanche-Journal newspaper. Pelley was born in San Antonio and attended Texas Tech University. He is a member of the university's alumni hall of fame and serves on the board of Texas Tech's College of Media & Communication.
Other Cronkite Award recipients include TV news anchors Charlie Rose, Diane Sawyer and Robin Roberts; newspaper journalists Ben Bradlee, Helen Thomas and Bob Woodward; and media executives Katharine Graham, Al Neuharth and Bill Paley. Cronkite personally presented the award during its first quarter-century. The CBS News anchor died in 2009.
The Walter Cronkite School of Journalism and Mass Communication, named in Cronkite's honor in 1984, prepares the next generation of journalists in both the time-honored fundamentals embraced by Cronkite and the multimedia skills necessary to thrive as journalists in the digital age.
Housed in a $71 million state-of-the-art media complex in downtown Phoenix, the school has been featured in The New York Times, The Times of London and USA Today as a leader in 21st century journalism education and innovation.
The Cronkite School is the home of Arizona PBS, which serves as a journalistic teaching hospital for hundreds of students who work under 15 full-time faculty at Cronkite News. The news organization includes a nightly television news broadcast on Arizona PBS, digital reporting bureaus in Phoenix, Washington and Los Angeles, business and borderlands reporting bureaus, an entrepreneurial digital innovation lab, a digital production bureau, a newsgathering and civic journalism bureau and the Carnegie-Knight News21 initiative.