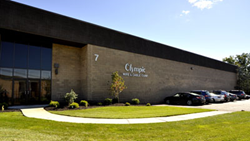 We are always looking to provide new and creative products to enhance our clients business and with Mag Daddy™
Fairfield, NJ (PRWEB) March 29, 2016
Olympic Wire & Cable, has been providing various types of cable for over 35 years to the professional, commercial, and residential markets for decades. Olympic Wire & Cable continuously strives to enhance overall cost and efficiencies by introducing products and techniques to their customers.
Through constant customer engagement over the years, Olympic Wire & Cable continuously look for new products that provide solutions to their client's operational challenges. These products ultimately enhance their client's bottom line by providing savings and shortening project time lines. Another example of how Olympic Wire & Cable drives that business practice is the introduction of the Mag Daddy™, which provides increased versatility, efficiency, and tangle free wire and cable installation with clients seeing up to 25 % reduction in labor cost.
Mag Daddy™ utilizes Ultra-Strong magnets the same that have been used in Aerospace, and Automotive Industries for many years. These magnets for the first time ever are being used for applications in Wire/Cable management. Mag Daddy™ is designed to eliminate the problem of pesky tangled wires. These magnetic fasteners can be used again and again to hold up wires and cables in hard-to-reach areas, ending the hunt for places to zip-tie your wires! Mag Daddy™ fasteners contain a number of wires, as well as bundles. Mag Daddy™ magnets easily stick through oil, grease, paint, and dirt. After placing a Mag Daddy™ Fastener onto a thick piece of steel, i.e. I-Beam, it appears as if it was welded on!
According to Diane Scott, Manager of Inside Sales for Olympic Wire & Cable, "We are always looking to provide new and creative products to enhance our clients business and with Mag Daddy™ we can provide over 32 various types of Magnetic Bridle Rings, Magnetic J Hooks, Cable Tie Mounts, and Cable Holders to our clients."
About Olympic Wire & Cable - Olympic Wire & Cable has been serving the wire and cable industry for over 35 years, Olympic Wire & Cable has the experience and skill – plus expert service and training — that mean success for our customers. Our stock positions and partnering with key suppliers assure fast delivery throughout our entire product range.
Contact: Olympic Wire & Cable: Diane Scott - 800-526-2269 - diane(at)olympicwire(dot)com