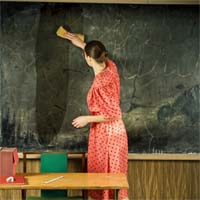 Raleigh, NC (PRWEB) March 29, 2016
Scientists in Italy say a mesothelioma victim whose asbestos exposure was classified as "unknown" probably got sick by using DAS modeling paste in the elementary classroom in which she taught. Surviving Mesothelioma has just published details of the case on its website. Click here to read the full article.
According to researchers at Italy's Agency for Health Protection (formerly ASL Brescia), DAS air-drying modeling paste, which was sold across Europe and used in hundreds of classrooms from 1963 to 1975, contained particles of asbestos, potentially putting teachers and students at risk for developing mesothelioma.
Although the teacher whose mesothelioma death they investigated was never known to be exposed to asbestos, a deeper look at her daily habits proved otherwise."It was possible to confirm past exposure to DAS paste in forming and finishing dry items and toys during school recreational activity almost every day from the mid-60s to about the mid-70s," writes lead author Pietro Gino Barbieri.
The report in the Italian medical journal la Medicina del Lavoro says that, because of its asbestos content, exposure to this kind of clay should be considered a definite - and not just possible - asbestos exposure.
"Mesothelioma in teachers is not unheard of because because so many school buildings were constructed with asbestos, both in the US and Europe," says Alex Strauss, Managing Editor of Surviving Mesothelioma. "But this case emphasizes the fact that older buildings are not necessarily the only source of mesothelioma risk for educators and that it pays to look deeper if mesothelioma is suspected."
To read more about the case study and about asbestos-containing modeling clay sold in the US, see Asbestos Modeling Clay Linked to Mesothelioma, now available on the Surviving Mesothelioma website.
Barbieri, PG, et al, "Pleural mesothelioma in a school teacher: asbestos exposure due to DAS paste", March 24, 2016, la Medicina del Lavora, pp. 141-147, https://www.ncbi.nlm.nih.gov/pubmed/27015029
For nearly ten years, Surviving Mesothelioma has brought readers the most important and ground-breaking news on the causes, diagnosis and treatment of mesothelioma. All Surviving Mesothelioma news is gathered and reported directly from the peer-reviewed medical literature. Written for patients and their loved ones, Surviving Mesothelioma news helps families make more informed decisions.