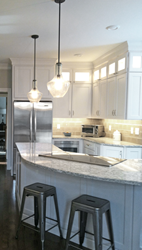 NARI contractors are pre-qualified for membership and vetted remodeling professionals.
Columbus, Ohio (PRWEB) April 04, 2016
Looking for inspiration for your next remodeling project? Searching for a trusted contractor for a project? Look no further. Visit the Home Improvement Showcase presented by the National Association of the Remodeling Industry, NARI, April 30 from 10am-5pm and Sunday, May 1 from Noon-5pm.
Guests will have the opportunity to tour a variety of projects around the city including remodels by: Custom Home Works, Dave Fox Design Build Remodelers, J.S. Brown & Co., Kresge Contracting, Nicholson Builders, Organized Home Remodeling, Owens Construction, Renovations Unlimited, and The Cleary Company. Projects range from whole house remodels to kitchen, baths, sunrooms, master suites and more.
The tour of homes allows consumers to see exciting home transformations while talking with contractors who can walk you through the remodeling process from start to finish. According to Shari Bates, Executive Director of NARI of Central Ohio, "NARI contractors are pre-qualified for membership, so you will have peace-of-mind knowing that the professionals you are speaking with during this tour are trusted and vetted professionals - all members of NARI, a not-for-profit trade association."
Tickets for the tour are $3 for a single site visit per ticket, ticket per person or $10 per person for the entire tour. Tickets can be purchased online at trustnari.org or at any one of the 11 Central Ohio tour locations (cash only please).
As a bonus, one lucky guest will receive a free 400 square foot floor coating from Columbus Garage Floor Coating. Guests can register at each home on the tour.
Tour Locations:
6352 Andrews Dr. W.
Westerville 43082
Kresge Contracting
Kitchen remodel including master suite and sunroom addition.
695 Cardinal Hill Ln.
Powell 43065
Project by: Dave Fox Design Build Remodelers
Interior remodel including kitchen, mudroom plus the addition of sunroom and in-law suite
5199 Reserve Dr.
Dublin 43017
Project by: Dave Fox Design Build Remodelers Kitchen remodel
1443 Clubview Blvd. N.
Worthington Hills 43235
Project by: Owens Construction
Kitchen remodel
877 Lookout Point Dr.
Worthington Hills 43235
Project by: Organized Home Remodeling Kitchen remodel
68 W. Beaumont Rd.
Clintonville 43214
Project by: Nicholson Builders
Interior Renovation including kitchen remodel
429 Piedmont Rd.
Clintonville 43214
Project by: J.S. Brown & Co.
Addition including mudroom, kitchen & powder room
2252 Abington Rd.
Upper Arlington 43221
Project by: Nicholson Builders
Interior renovation including kitchen remodel
1824 Roxbury Rd.
Upper Arlington 43212
Project by: Renovations Unlimited Interior remodel including kitchen & bath
207 E. Deshler
German Village 43206
Project by: Custom Home Works
Whole house remodel including kitchen, half bath, laundry & garage
2241 Astor Ave.
Bexley 43209
Project by: The Cleary Company Family room addition
The Tour is generously sponsored by:
Gold Sponsor: The Cellar Lumber Company
Silver Sponsor: Pro Exterior by APCO
Silver Sponsor: Ferguson Bath, Kitchen & Lighting Gallery Bronze Sponsor: Hamilton Parker Co.
Supporting Sponsor: Frog Hauling
Contributor: Columbus Garage Floor Coating