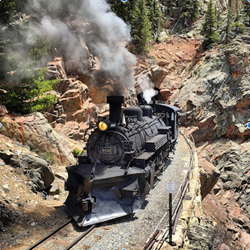 The Cumbres & Toltec is the highest, longest and most authentic steam railroad in America.
CHAMA, NM and ANTONITO, CO (PRWEB) March 29, 2016
The Cumbres & Toltec Scenic Railroad, the highest, longest and most authentic steam railroad in America, will begin its 46th season on May 28, 2016, with trains departing daily from both Antonito, Colorado and Chama, New Mexico through October 23, 2016.
The steam railroad, owned jointly by the states of Colorado and New Mexico, is considered to be a "Williamsburg on wheels," an authentic National Historic Landmark that re-creates the thrilling experience of traveling by steam railroad over some of the most gorgeous scenery in the Rocky Mountain West. The train follows 64 miles of tracks that cross the borders of Colorado and New Mexico 11 times, skirting along canyon walls through Toltec Gorge and climbing to the top of 10,015-foot Cumbres Pass, the highest point reached by any steam railroad in North America.
Originally built in 1880, the train was traveled by Wyatt Earp, Doc Holliday and about every outlaw and gunman in the Old West. Indiana Jones grew up next to the railroad, and frequently hopped a ride on circus trains. At least, he did that in the movies. The house used in the film as Indiana Jones' boyhood home is now a B&B and visitors can stay there before riding the train.
Unlike many tourist railroads, the Cumbres & Toltec strives to create an authentic 1880 railroad experience. Passengers may walk through the train, ride in the open air gondola, open windows, or ride on platforms between cars. The train travels at a top speed of 12 mph through deep forests of aspens and pines, across open tundra, on high plains, and through a rocky gorge of unusual geologic formations. There are restrooms on most cars and bar service is available on each train, and a delicious hot lunch of turkey or meatloaf is served at the midway point in the scenic station at Osier.
Convenient Schedules Offer a Wide Variety of Choices
Passengers can board daily trains in either Antonito, CO or Chama, NM. They can go the full 64 miles in one direction and return to their cars via a 40-minute motorcoach ride. Or they can go to the halfway point, enjoy lunch, and return to their car by train. It's even possible to park your car in Antonito or Chama, ride a motorcoach to the other station in the morning, and return to your car by train in the afternoon. Motorcoach rides and lunches are included in all full day ticket prices, which start at $95 for adults.
There are also half-day trips, dinner trains, sunset trains and a special July 4th train that includes fireworks. For details and pricing, go to: http://www.cumbrestoltec.com or call 1-888-286-2737.
# # # ALL ABOARD! # # #