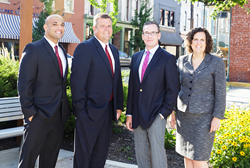 Let's be honest: it's hard enough navigating the world when your biological sex matches your gender identity. When there is a mismatch, life can be beyond challenging
(PRWEB) March 30, 2016
Kentuckiana family law attorney Dana Eberle-Peay acknowledges that gender identity is a spectrum and lends her support as well as her legal services to the transgender community. While transgender people have always existed, discussions about the topic have become less taboo since individuals like Caitlyn Jenner, Laverne Cox, Chaz Bono, and Lana and Lilly Wachowski have brought the spotlight with them.
"Let's be honest: it's hard enough navigating the world when your biological sex matches your gender identity," Eberle-Peay remarked. "When there is a mismatch, life can be beyond challenging. Until recently, people who did not fit into the gender binary were labeled as mentally ill. As the medical community has evolved its approach, so, too, must the legal community in order to help those who feel so constantly conflicted between the gender they experience and the gender they were assigned."
Discrimination in housing, employment, health care, public accommodations, and other areas is a common occurrence for trans people. Whether transitioning from female to male (FTM), from male to female (MTF), or somewhere on the spectrum away from the ends, transgender people should have a safe place to live, be free from harassment at work, receive skilled and compassionate medical care, and be treated the same at public accommodations as their non-transgender peers.
"To put it simply," states Eberle-Peay, "not everyone falls strictly into the male or female paradigm. Transgender people should have access to equal rights and opportunities under the law. If you have been discriminated against due to being transgender, need advice on how transitioning affects your marriage/divorce/custody/adoption, need help changing your name or gender marker legally, or any number of other issues, you are welcome at our law office. We understand that these changes are significant milestones for individuals who have spent their whole lives being misidentified. The law is very particular about properly changing documents – and there are many, including driver's licenses, passports, social security cards, birth certificates, school records, government records, and medical records. No one who is dealing with transgender issues should also have to worry about being treated fairly and respectfully by a legal professional."
About McNeely Stephenson
The McNeely Stephenson law firm has been getting justice for clients for over 30 years. Their office in New Albany, Indiana provides personalized assistance to many areas throughout Kentuckiana. They have seen all manner of family law issues, employment law cases, insurance claims, and more. Experienced civil trial attorneys, they are committed to providing exceptional service and personal attention. Learn more about your rights and options under the law by contacting them today for a confidential consultation. Complete the online form or call 812-725-8224.