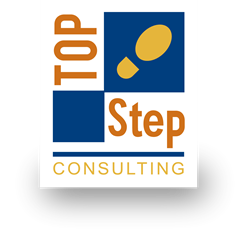 As partners of FinancialForce, attending Community Live is a great opportunity to help build the FinancialForce community by networking with customers who want to collaborate and share best practices —Jodi Cicci, TOP Step Consulting CEO
Washington, D.C. (PRWEB) March 29, 2016
TOP Step Consulting LLC, an award-winning Washington-DC area professional services firm specializing in project-based cloud-based application services, will be a Gold Sponsor at the FinancialForce Community Live event this May in Las Vegas. TOP Step Consulting is a leading provider in delivering superior operational efficiency solutions to professional service organizations, and is a FinancialForce partner. Community Live is the only conference of its kind this year to bring together a community of FinancialForce consumers for in-depth training workshops, best practices sessions and networking with experts. The event expects 700+ attendees, with a keynote featuring Jeremy Roche, FinancialForce President & CEO.
"As partners of FinancialForce, attending Community Live is a great opportunity to help build the FinancialForce community by networking with customers who want to collaborate and share best practices about using FinancialForce. It's also a one-of-a-kind opportunity for us to present our services to prospects seeking PSA expertise and to network with fellow FinancialForce experts." —Jodi Cicci, TOP Step Consulting CEO
FinancialForce Community Live aims to help FinancialForce customers get the greatest amount of value out of its PSA, Human Capital Management (HCM), and Financial Management (FM) applications, and to present an experience that will help FinancialForce partners have better visibility with FinancialForce customers. The 2-day event will be a huge training opportunity and features more than 25 workshops. The event will also have networking opportunities for FinancialForce customers to network with the experts, including a business speed dating event. For more information about the events that TOP Step Consulting is involved in, please visit the TOP Step Consulting website.
About TOP Step Consulting
TOP Step Consulting, LLC is a leading expert in professional services automation (PSA) that assists businesses with improving business efficiency and productivity to simplify their complex global operations. They provide advisory, implementation and outsourced administration services to over 270 world-class professional services organizations worldwide. Their goal is to streamline operations, and help their customers achieve profitability goals that result in focused business growth. To learn more please visit http://www.topstepconsulting.com.