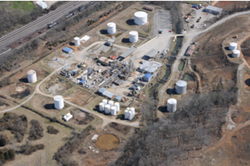 Somerset, KY (PRWEB) March 29, 2016
Continental Refining Company is proud to announce the addition of a new Crude Unit, which will enhance crude oil processing and triple its transmix processing capabilities. In addition the company is doubling its distillate hydrotreating operations to make more Ultra Low Sulfur On Road Diesel (ULSD). The company is purchasing new equipment to achieve this outcome. Both of these projects are expected to be complete in the second quarter of 2016.
Transmix is a type of fuel produced when different fuels mix together in the fuel distribution system. This fuel is more difficult to process than other types of fuel and cannot be sold without further processing. Transmix processors provide a valuable service in refining by preventing these mixtures of fuels from creating bottlenecks in the fuel distribution system. The company is also using hydrotreating processes to remove impurities such as sulfur and nitrogen from distillate fuels. Continental Refining Company's Premium High Cetane Diesel is a unique diesel blend that provides more productivity and less maintenance for engines.
"This new Crude Unit addition signifies exponential growth for Continental Refining Company. We will be able to expand our refinery's capacity for processing transmix and ULSD on a large scale to better serve our customers," said Demetrios Haseotes, Continental Refining Company CEO/President. "We are pleased to work with the City of Somerset and continue our progress into the future."
This effort to increase production is supported by rail with the South Kentucky Economic Development Park (SKED), a 72-car public railroad facility in Ferguson, KY, built to promote rail service for area businesses, as well as by Ohio River barge operations, which recently began operations and has been expanded to move the product to its Somerset, KY refinery. Continental Refining Company has leased marine terminal space at CITGO Louisville Terminal in Louisville, KY to receive and store product for the refinery operation.
In the fourth quarter 2016, Continental Refining Company is also doubling its naphtha hydrotreating capacity and gasoline-making operations. Naphtha hydrotreating is an important step for oil refiners to produce cleaner gasoline. In conjunction with this, the company is building a new 3500 bpd distillate hydrotreater, valued in the tens of millions, to process additional high sulfur distillate to make ULSD.
This project will also increase the number of employees for the company. Continental Refining Company currently employees 48 people, and will add three employees within the next month.
"We are excited that these projects will allow us to bring on new team members," said Kris Gibson, Refinery Manager for Continental Refining Company. "We take great pride in our current team, and our company strives to support and strengthen the local community by creating new jobs. Continental Refining Company will potentially hire eight additional people during the coming months to grow our company for success in 2016."
About Continental Refining Company:
Continental Refining Company, U.S. Refinery #5113, is a wholly owned crude oil refinery located on 93 acres in Somerset, KY and adjacent to intermodal rail and close to barge facilities for rapid shipping. CRC is the only crude oil refinery in Southern Kentucky located in Pulaski County. Purchased in December 2011, the company supports local crude oil producers with a dramatic decrease in transportation costs along with favorable crude rates and rapid payment cycles. CRC has a significant geographic advantage and honors the community by expanding local employment, managing for long-term prosperity and ensuring that Somerset, KY is a part of meeting the demands of domestic oil products.
Continental Refining Company is one of only 150 refineries in the United States and is the closest refinery for crude oil producers within a 170-miles radius. CRC also has its own fleet of transport tankers currently hauling local crude oil, delivering finished petroleum products and picking up transmix in local, regional and national markets. Refining operations began in January 2013, processing crude oil supplied by Sunoco Partners Marketing & Terminal LP as well as regional producers. CRC welcomes additional regional crude oil producers as supply is expanded. For more background information please visit http://www.continentalrefiningco.com
Press Contact:
Ana Tackett
Shorey Public Relations
(480) 828-0762
ana.tackett(at)shoreypr(dot)com