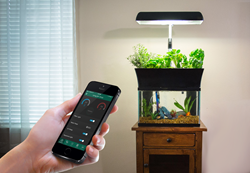 All the modern farming knowledge you could need is right at your fingertips.
Temecula, CA (PRWEB) March 29, 2016
InnoGro, a California startup that intends to allow urbanites to easily grow their own food, is now selling its flagship product, the AquaGarden.
The company hopes to raise $150,000 to scale production and make the AquaGarden available to the masses. The AquaGarden, which will sell commercially for $550, is available for backers on Kickstarter starting at $379.
The AquaGarden is designed not to take up much space while allowing for easy, productive gardening. To do this, it mounts on top of standard 10 gallon aquariums, using the fish waste as fertilizer. The grow media provides a home for special bacteria which break down the fish waste.
Harnessing the power of aquaponics, the company says its product will reduce aquarium maintenance despite the productive garden output. It does this by removing the need for a filter and water changes. By repurposing the decorative fishtank into a thriving garden, InnoGro hopes to encourage people to start taking more control over their food production.
"It's a great way to start growing your own herbs and veggies," says founder Mike Brawner. "And with our custom app, all the modern farming knowledge you could need is right at your fingertips."
Because so many users are complete novices, the company says its mobile app has been designed to empower even the greenest gardener to start growing their own food.
The app will provide insight and control over the AquaGarden. Built-in sensors monitor water temperature and pH, alerting users if parameters get outside healthy levels. The system also automates required equipment, providing a hassle-free experience for gardeners.
For more experienced gardeners, the app allows fine-tuning to increase yield. And the open-source platform encourages collaboration and innovation. "The gardening community is incredibly knowledgeable, but it can sometimes be difficult to benefit from this knowledge without experiencing problems first-hand," says Brawner. "We want to change this by creating a platform where everyone can learn, share, and improve."