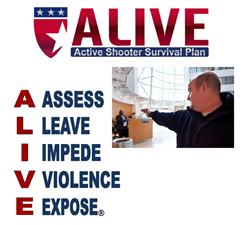 An armed officer at a school, hospital or other facility is the best way to slow or stop an attack; as shown by the quick reaction by the Armed School Resource Officer at Arapahoe High School. - According to Michael Julian
MURRIETA, CA (PRWEB) March 30, 2016
In light of the recent school and government facility shootings, MPS Security has developed an informational training seminar for school, hospital and utilities districts to train educators, managers and employees on how to respond effectively for themselves and the individuals under their supervision during an active-shooter situation.
MPS Security is a full-service security and protection firm focused on physical and asset security using uniformed and plainclothes security officers and protective agents for site security, risk mitigation and management, security based business continuity, events, residential communities, commercial properties, and government and private facility security. MPS offers services such as security vulnerability audits, access control, security patrols, loss prevention, fraud detection, undercover officers, strike security, and risk mitigation and management using formally trained professionals.
Training and Education
Using a common sense approach based on what has been learned from prior active shooter events, perpetrator behavior and mentality, security expert Michael Julian, President of MPS Security and National Business Investigations, Inc., developed the ALIVE Active Shooter Survival course that teaches "security mindset" to aid in recognizing possible signs of a pending attack, and reaction techniques that take the fundamental "Run, Hide, Fight" response to the next level.
According to Michael Julian, "An armed officer at a school, hospital or other facility is the best way to slow or stop an attack; as shown by the quick reaction by the Armed School Resource Officer at Arapahoe High School. The armed officer ended the attack after 80 seconds as compared to Sandy Hook Elementary School where the attack continued for almost 5 minutes leaving 22 children and 6 adults dead, and the San Bernardino Department of Public Health attack which took less than 4 minutes and left 14 employees dead and 22 seriously injured. However not all schools or businesses can afford to have an armed officer on-site. That's why it is important for all managers, caretakers, students and employees to understand how to react, and the strategies needed to protect their lives and the lives of others involved."
MPS Security began offering this seminar in 2015 to local utilities district clients in Southern California to help prepare public and private facilities throughout the county. It has since been presented in other regions of the country from California to Florida.
Learn more about MPS Security's Active Shooter Survival training. https://www.security-mps.com/active-shooter-response/
About MPS Security
MPS Security is the full-service security division of National Business Investigations, Inc. (NBI), a corporate and legal investigations firm founded in 1967 by Ron Julian, the father of current CEO/President Michael Julian. MPS provides physical and asset security and consulting services throughout the United States through:
-Site and event security at residential communities & commercial properties, private and public facilities
-Risk Mitigation & Management Services using formally trained professionals for challenging protection assignments such as executive protection, union strike and workplace violence and hostile termination security.
-Consulting on physical and electronic security vulnerability
-Specialized undercover operations for loss prevention and fraud detection
Michael Julian, CPI, PPS, CSP, is a recognized expert in security, executive protection and risk mitigation & management. Along with speaking at security and executive protection conferences, Michael Julian is also an instructor for numerous association conferences and security educational events.
Request more information on security-mps.com
T: 1-866-678-4408