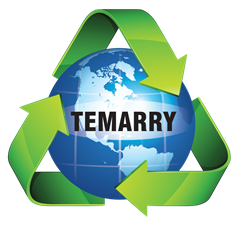 Many California hazardous waste generators are confused by the Biennial Report requirements.
Tecate, CA (PRWEB) March 31, 2016
Temarry Recycling, Inc., a United States based exporter of hazardous waste announced today that companies that manifest their hazardous waste with Temarry Recycling do not have to report to the California Department of Toxic Substances Control (DTSC) Biennial Report.
Temarry Director of Business Development Larry Burton states, "Many California hazardous waste generators are confused by the Biennial Report requirements. When a waste is manifested outside of the U.S. there is no DTSC regulation so it can't be found when searched for. The software provided for reporting does not work because it does not allow for the prefix of an international TSDF. Because international shipments are covered by Federal regulations, Federal statutes (40 CFR 262.56) take precedence."
"Federal statues are clear that reporting requirements including hazardous waste movements shift to exporters upon shipments leaving the country. Once hazardous waste crosses the border from U.S. soil to Mexican soil, Temarry becomes the primary exporter of record. This means that Temarry is responsible for completing an annual report submitted to EPA."
Lifting or relieving this reporting chore is a tremendous benefit for customers of Temarry. Among the many benefits of exporting hazardous waste streams with Temarry is the fact that once your hazardous waste is transported to Mexico, your regulatory requirements are complete. This is the grave in the cradle to grave liability for a generator of hazardous waste. By utilizing Temarry companies reduce their regulatory burden and achieve the highest level of sustainability available in the western United States.
About Temarry Recycling, Inc.: Temarry Recycling, Inc., is the first permitted company serving the Western United States to be authorized by the U.S. EPA per the provisions of part 262 subpart E section 262.53 of the CFR title 40 to export hazardous waste for recycling in Mexico. Located just outside of San Diego California, Temarry serves the business communities of the Western United States offering the highest level of sustainability and the opportunity for industry to reduce their carbon footprint.