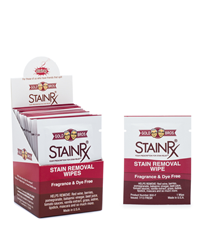 Tuck a few in your purse to quickly treat spots on just about anything.
Fort Lauderdale, FL (PRWEB) March 30, 2016
Stain Rx® announced today that its stain remover wipes were one of the winners chosen in Family Circle magazine's April 2016 issue of the 50 Best New Cleaning Products.
The products were tested and chosen by an expert panel, including Donna Smallin Kuper, founder of unclutter.com and author of Clear the Clutter, Find Happiness; Jolie Kerr, producer of the weekly cleaning advice column and podcast "Ask a Clean Person"; Becky Rapinchuk, green cleaning specialist, creator of cleanmama.net and author of The Organically Clean Home; Debra Johnson, Curriculum manager at Merry Maids (merrymaids.com); and Melissa Maker, the cleaning ninja behind CleanMySpace.com and YouTube's Clean My Space channel.
The Stain Rx® on the go travel wipes won in the category of "Specialty Cleaners." Said tester Smallin Kuper, "(The wipes) remove red wine from cotton like magic. Tuck a few in your purse to quickly treat spots on just about anything."
The wipes were also featured in a Today Show segment led by Family Circle Senior Home Editor Danielle Blundell. During the segment, Blundell mentioned that "our testers went crazy" for the Stain Rx® wipes.
About the Wipes
Made in the USA, these individually-wrapped stain remover wipes are fragrance-free, dye-free, disposable, and contain no bleach, peroxide or phosphates. They remove almost every household stain, including stains from red wine, berries, tomato sauce, coffee, lipstick, blood and so much more, from clothing, carpet, upholstery, stainless steel, mica, plastic, and porcelain, even jewelry.
They wipes are available for purchase in a box of 18, at http://www.StainRx.com and http://www.Amazon.com.
About the Company
The wipes are the newest product offered by Cambridge Diagnostic Products, Inc. For over 50 years the company has created and manufactured "professional strength" stain removal products for large and small hospitals, medical and surgical centers, laboratories, restaurants, wineries, dry cleaners, doctors' offices, car washes, sports teams and more, worldwide.
In recent years the company has offered products to the public under the Stain Rx® brand. Stain Rx® stain removal products are offered in various sizes and formulations, including liquids, wipes, and in a Spring Fresh scent, as well as a Fragrance-Free, Dye-Free option.
Stain Rx® has been tested and reported on by the Department of Viticulture & Enology at the University of California - Davis and Wine News for its effectiveness in removing troublesome red wine stains from various fabrics and surfaces.
High-resolution product photos are available upon request.
For more information, please visit http://www.StainRx.com.