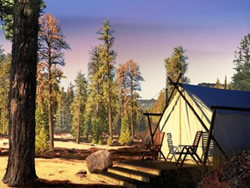 Camping as it should be.
Williams, AZ. (PRWEB) March 29, 2016
Under Canvas, North America's premiere luxury camping and outdoor events company, announces the opening of Under Canvas Grand Canyon – the first eco friendly, safari inspired glamping resort of its kind at the National Park. Tucked alongside historic Route 66 at the base of picturesque Bill Williams Mountain, adventurous vacationers visiting the Grand Canyon will soon have the opportunity to sleep beneath the stars amongst one of the largest Ponderosa Pine forests in the world.
"2016 is a landmark year for Under Canvas. We are delighted to set up camp in Arizona and thrilled to bring the African safari experience to one of the most iconic natural wonders in America," says co-founder Sarah Dusek. Situated on 56 secluded acres just 40 minutes from the South Rim in Williams, AZ – a town also known as the "Williams, Gateway to the Grand Canyon" ® – the permanent wood and canvas tents provide a rustic luxury escape with access to virtually every outdoor adventure imaginable. Ideal for families and adrenaline seekers alike, excursions include whitewater rafting, horseback riding, scenic flights, zip lining, jeep safari tours, the Grand Canyon scenic railway and more.
Perfect for wanderlust couples and families, accommodations are offered in three tent categories with amenities such as wood burning stoves, luxurious linens and Adirondack chairs for lounging beneath the stars. The deluxe safari tents also include en-suite bathrooms complete with eco friendly toiletries, a hot shower, sink and flushing toilet – suites also have the added luxury of cast iron roll top bathtubs. Embracing their eco conscious "leave no trace" foundation, the entire property uses the daily water equivalent of one residential house.
Along with the newest addition to their glamping collection, the outdoor hospitality group has expanded Under Canvas Exclusive Adventures. Offering fully customizable itineraries uniquely tailored for travelers seeking active vacations, the multi day excursions explore some of the nation's most incredible sights with the added luxury of private tented camps, expert guides and gourmet food. "We are excited to build on the success of our local adventures and offer a new range of exclusive Under Canvas itineraries," says co-founder Jacob Dusek. Each location will have a different focus including a tranquil retreat on your own private island in Maine, exploring the Central Coast of California or kayaking the Snoqualmie National Forest in Washington.
Officially opening June 30, 2016, Under Canvas Grand Canyon marks the fourth location with sister properties in Moab, Yellowstone and Glacier National Parks.
Under Canvas Grand Canyon is located at 710 E. Route 66, Williams, AZ 86046. For more information including trip at-a-glance itineraries or to make a reservation, visit http://www.undercanvas.com or call 928-248-8808.
About UNDER CANVAS®
Under Canvas is a family of luxury tent companies co-founded by Jacob and Sarah Dusek in 2009. Born from a joint love affair with the African safari experience and a passion for design, the desire emerged to create an immersive outdoor escape that would serve as a unique bridge between travel and nature. The Under Canvas brand came to existence with the opening of Sage Safaris, an all-inclusive Montana wing shooting safari experience. Now creating boutique-tented hotels across North America, the luxury wood and canvas tents have continued a western expansion, traveling further and further from their Yellowstone home base.
Retaining the "can-do" Montana attitude, Under Canvas now offers fully customizable itineraries for travelers seeking active vacations while also servicing everything from high-end weddings to large corporate events. The team of adventurers willingly takes on any mission – even the impossible. If you can dream it, Under Canvas will help you create it. Under Canvas was selected as a Best of the West pick by Sunset and has been recognized as a standout in luxury adventure travel by Time, Travel + Leisure, Condé Nast Traveler and Vogue.com. For more information, visit http://www.undercanvas.com