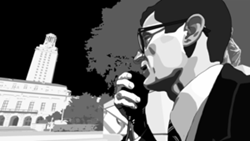 I found the story to be a really interesting take on a historically significant event.
Austin, TX (PRWEB) March 29, 2016
Nathan Bayless, video director for mobile app marketing agency, APPSPIRE.me, was on the color team for the film "TOWER" which won three SXSW film awards.The film, for which Bayless was hired as animator and colorist, won Best Documentary, the Louis Black Lone Star Award, and Audience Award. The documentary was recognized for its compelling feature of combining animation and archival footage. Bayless' role was to captivate the audience by adding rotoscoping techniques to heighten the feel of the film. The documentary is a feature on the notorious school shooting that took place at the University of Texas at Austin on August 1st, 1966.
"I jumped at the chance to work on this film because I love doing hand-drawn animation and found the story to be a really interesting take on a historically significant event," said Bayless. "Most of my work on the film was as a colorist, which meant I was responsible for character coloration, such as fills, details, shading, highlights, etc."
The U.T. tower shooting was the first campus mass murder in America. The film "TOWER" includes archival footage and recent interviews with the event survivors. Bayless took both forms of footage and used an intensive form of animation called "rotoscoping" to add visual dimension to the film.
Bayless' fascination with Ralph Bakshi and his work is what brought his love for the rotoscope style of animation, which is what he used for "TOWER". Bayless also uses this inspiration for the APPSPIRE.me videos.
"I've always been a big fan of the type of rotoscope animation we used to bring 'TOWER' to life, so this was a rare and exciting opportunity. It just produces such a strangely surreal feel that I found fascinating as a kid in movies like 'Heavy Metal' and most of Ralph Bakshi's catalog, and more recently in Richard Linklater's 'Waking Life' and 'A Scanner Darkly."
"TOWER" is traveling across the nation to different film festivals and continues to be recognized for its compelling storytelling style.
Visit the official TOWER website here.
ABOUT:
Nathan Bayless is a graduate from Indiana State University with a degree in Radio/ TV Film. He is the Video Director for APPSPIRE.me, and does freelance animation and video work. He has produced dozens of animated and live action films for APPSPIRE.me, and his recent work for the film "TOWER" won SXSW Best Documentary award.