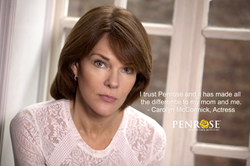 Penrose Senior Care Auditors Selected by AARP as Top 10 Finalist
Dallas, TX (PRWEB) March 29, 2016
Penrose Senior Care Auditors, the first and only app-enabled senior care service that checks-on seniors and reports to families, is pleased today to announce it has been selected as one of the finalists for AARP Health Innovation@50+ LivePitch, the one day pitch competition for emerging startups in the healthy living space with a focus on caregiving. Penrose will compete against 9 other startups that represent the best in health tech startups. For more information on the Wednesday, April 27 event, go to http://health50.org/
Penrose created the senior care auditing service and continues to lead it today. Called Penrose-Check-Ins, its $99 auditing services include the Penrose Care-Check, Penrose Pre-Check, Penrose Quick-Check, Penrose Safety-Check, and Penrose Quick-Check. Certified, insured auditors are selected by families to visit their aging loved-ones, and using the Penrose App, assess items affecting their well-being and report back to them. More can be learned at http://www.penrosecheckin.com.
AARP's Health Innovation@50+ LivePitch event, held at Plug and Play Tech Center in Sunnyvale, CA, begins with speaking sessions on caregiving, and then a keynote with Nancy LeaMond, chief advocacy and engagement officer, AARP. The afternoon will showcase ten companies, including Penrose, who were selected from over 200 applicants.
The ten will be presenting their business focus on stage before a panel of expert judges and an audience filled with AARP members, the actual intended end users of these solutions. Representing AARP's 38 million members, these consumers will share feedback in real-time on business viability, interest and value, providing the companies absolutely invaluable market data on the spot. Penrose Founder & CEO, Rhonda Harper, will pitch how Penrose is solving unique healthcare needs of people 50 and over, and/or their caregivers.
"We are honored to be selected by AARP as one of their Top 10 finalists," says Rhonda Harper, Founder & CEO, Penrose. "I founded Penrose based on the poor care I witnessed my father receiving in assisted living. We are passionate about improving senior living, enhancing the lives of seniors, and providing peace-of-mind to families."
About AARP
AARP is a nonprofit, nonpartisan organization, with a membership of nearly 38 million, that helps people turn their goals and dreams into real possibilities, strengthens communities and fights for the issues that matter most to families. We advocate for individuals in the marketplace by selecting products and services of high quality and value to carry the AARP name as well as help our members obtain discounts on a wide range of products, travel, and services. AARP has staffed offices in all 50 states, the District of Columbia, Puerto Rico, and the U.S. Virgin Islands. Learn more at http://www.aarp.org.