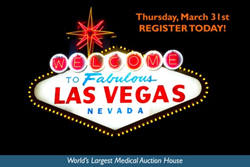 Las Vegas, Nevada (PRWEB) March 29, 2016
Centurion Service Group's Las Vegas auction is on March 31, 2016.
Registration information and the complete list of medical equipment can be found here!
Auction Date: Thursday, March 31 at 9 AM PDT
Inspection Dates: Wednesday, March 30 from 8 AM - 4 PM PDT
Equipment Removal: Friday, April 1 - Friday, April 8 from 8 AM - 3:30 PM PDT
Auction Location: 4606 Andrews St. Suite 3, North Las Vegas, NV 89081
This will be a Theatre Style and a Live Simulcast Bidding Event!
These are just some of the highlights:
Hospital Beds
Hill-Rom P3200 Versacare Hospital Bed (4)
Stryker Epic II Hospital Bed
Stretchers/Stretcher Chairs
Stryker 5051 Eye Stretcher Chair (3)
Stryker 1020 Trauma Stretcher (5)
Exam
Ritter/Midmark 222 Power Exam Table With Foot Control (4)
Dexta Mk20x3c/604-14 Power Exam Chair With Foot Control
Obstetrics
Ohmeda Ohio Care Plus 4000 Infant Incubator
Ohmeda Ohio 3300 Infant Warmer (3)
Respiratory
Carefusion Viasys Avea Ventilator (2)
Philips Respironics Remstar Auto A-flex Cpap Machine (2)
Hudson RCI Conchatherm IV Plus Heated Humidifier (3)
Infusion
Baxter AS50 Infusion Pump (4)
Abbott Plum Xl3 Triple Infusion Pump
Lab
Roche Cobas Fara Centrifugal Analyzer
Fisher Scientific Accuspin 24C Centrifuge
Dialysis
Fresenius 2008K Dialysis Machine (9)
Surgery
Stockert SIII Blood Perfusion System With 6 Roller Pumps (2)
Zimmer ATS 2000 Automatic Tourniquet System
Zimmer ATS 1500 Tourniquet System On Rolling Stand With Cuffs
Surgical Microscopes
Carl Zeiss Opmi MDU Surgical Microscope With Dual Binoculars (10x/22b T*, F170 And 12,5x/18b T*, F170), Opmi Md Lens (F 175 T*) And Footswitch On S/5 Rolling Stand
Leica Wild M680 Surgical Microscope With Dual Binoculars (10x/21 And 10x/21), 10445298 Lens (F=250), 2 Footswitches On Rolling Stand
Endoscopy
Stryker ISwitch Wireless Universal Foot Control (2)
Stryker Wise HDTV Transmitter
Anesthesia
Drager Narkomed GS Anesthesia Machine (17)
Or Lights/OR Tables
Steris Harmony Led585 Dual Mount Or Lights With Control Box (2)
Berchtold Chromophare D 660 Dual Mount Or Lights (5)
Hill-Rom Prima Single Mount Or Light (3)
Instruments
Synthes Maxillofacial Craniofacial Modular Fixation System
Zmmer Hall 5048-02 Oscillator
Central Supply
Steris Amsco 333 Washer/Disinfector
Amsco Reliance Sonic 550 Ultrasonic Cleaner
Disposables
St. Jude Medical Lot Of Misc Disposables (2)
Edwards Life Sciences Lot Of Misc Disposables
Physical Therapy
Nustep TRS 4000 Recumbent Cross Trainer
Cybex Leg Press
Patient Monitoring
40 - Drager Infinity C700 Patient Monitor
Mindray Datascope Accutorr V Patient Monitor
Ophthalmic
Zeiss Visulas Trion Ophthalmic Laser With Footswitch
Zeiss Stratus Oct Direct Cross-Sectional Imaging System With Rolling Workstation
Radiology
Morgan Med-Design Exlt-Fw Fluoroscopy Table With Hand Control
Acuson Cypress Portable Ultrasound With 3 Probes (3v2c, 7l3, Swift Link) And 08269735 Adaptor On Rolling Car
Who is Centurion Service Group?
Centurion Service Group is the innovative company behind the world's largest used medical equipment auction house. They empower buyers to purchase from the largest inventory, with no minimum or maximum restrictions, and a fast and easy auction process.
Based in Chicago and with locations in Las Vegas and South Florida, Centurion Service Group is internationally known as an industry leader specializing in surplus used medical equipment auctions. Selling more than 100,000 pieces of medical equipment every year, they have been rated the largest medical equipment auction house in the world. Whether it is your first time bidding at an auction or you are a long-time customer, Centurion Service Group offers resources to assist you during different steps of the auction process. Learn about their:

For more information on upcoming auctions, please visit centurionservice.com or contact us at (708) 761-6655.
MORE EQUIPMENT. LESS WORK.