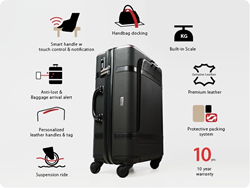 We spent an extensive amount of time studying how people use their suitcase and the problems they have. Floatti is a collection of answers that we engineered to solve these problems
Los Angeles, CA (PRWEB) March 29, 2016
Floatti, the smart suitcase loaded with technology and features for stress-free travel, today launched its crowdfunding campaign on Kickstarter.
Packed with features and designed for people on the go, the Floatti suitcase will transform the way travelers get to their destinations with its functional and super-stylish design.
Floatti was created by a leading Italian industrial designer to be the most functional and stylish suitcase ever made – loaded with every feature a traveler could want and need.
"We spent an extensive amount of time studying how people use their suitcase and the problems they have. Floatti is a collection of answers that we engineered to solve these problems," said Floatti industrial designer Andrea Ponti. "Our suitcase is beautiful, smart and extremely functional - combining superior materials, innovative functions and a unique style."
The Floatti smart suitcase handle is one of its revolutionary features. Touch controls allow users to keep connected to their smartphones, make calls, access maps and send messages, simply by touching the handle. To help keep users safe, Floatti is also equipped with an SOS alarm, which can be set off at the touch of a button - also from the suitcase smart handle.
Designed with advanced wheels and an innovative suspension system, stairs can be handled with ease as impact and vibration are absorbed and neutralized. The Floatti is the world's first suitcase to feature suspension engineering for pulling and pushing for a smoother ride, no matter the surface.
Floatti has a built-in charger for devices and its detachable electronic compartment for laptops and smartphones will keep travelers moving quickly through security lines. For those who flirt with the over-packing weight limit, the digital built-in suitcase scale prevents costly extra baggage airline charges.
With a handbag docking station and retractable strap, Floatti helps eliminate the hassle and stress of carrying extra baggage by stacking it securely on top. It also comes with integrated hooks perfect for hanging jackets and hats while on the go.
Worrying about lost luggage will no longer be a problem with Floatti's sophisticated tracking system and app. Get instant notifications if the Floatti suitcase is out of range and when your luggage arrives at the baggage claim, an alert will allow you to simply pick it up without worrying if it's your bag.
Additional Floatti features include:

Fastenable packing system with color coded pouches
Personalized leather handles and hang tag
Made from coated-poly-carbonate and aircraft grade aluminum
Scratch resistant
Premium genuine leather trim
Available in black and cream
10-year warranty
Floatti is available for pre-order on Kickstarter with early bird discounted pricing.
For more information and to pre-order Floatti, please visit: https://www.kickstarter.com/projects/1491048568/floatti-the-worlds-first-super-suitcase
About Floatti Smart Suitcase
Floatti is a classical design in its modern form. Innovation is built into every feature of the Floatti suitcase, and yet each fresh idea is integrated within a design framework that draws inspiration from the classic suitcase. Combining the best of both worlds, Floatti was conceived with the belief that truly great design is timeless, while up-to-the-minute technology and user friendly interfacing can make our lives and our journeys much easier. We spent extensive amount of time studying how people use their suitcase and the problems they have. Floatti is a collection of answers that we engineered to solve these problems. It gives you the free hands, peace of mind and keeps everything clean and organized.