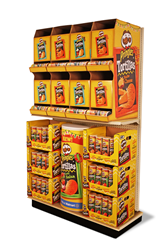 This is our industry's highest achievement and we are so honored to be recognized among the best-of-the-best from around the world.
MENASHA, Wis. (PRWEB) March 30, 2016
Menasha captures Global Award for its Pringles Tortilla Chip Launch at the annual POPAI Global Awards at GlobalShop 2016 in Las Vegas, Nev. after taking home an individual POPAI gold in 2015.
The Global Award comes in the food, grocery & convenience, semi-permanent category. Each year the POPAI Global Awards recognize excellence in point-of-purchase advertising displays and marketing-at-retail activations by bringing together gold-winning displays from around the world to find and celebrate the international best-in-class.
Gold-winning displays from the 2015 POPAI competitions are eligible to receive a 2016 Global Award. This year's Global Awards had 10 countries enter more than 50 displays. The winners were announced on March 23, 2016.
"At Menasha we strive to be a leader in providing creative, innovative solutions to help our consumer packaged goods consumers achieve retail marketing success," said Dennis Bonn, vice president of marketing at Menasha. "This is our industry's highest achievement and we are so honored to be recognized among the best-of-the-best from around the world."
The Wisconsin-headquartered retail promotional solutions leader also won 13 of POPAI's 2016 Outstanding Merchandising Achievement (OMA) Awards, including one gold, four silver and eight bronze awards.
POPAI's OMA Awards Competition is the premier award show recognizing the most innovative and effective in-store and point of purchase displays. Since 1958, this competition held alongside the industry's largest tradeshow, GlobalShop, recognizes in-store marketing programs that lift sales, make products memorable and entice consumers to purchase products.
The winners were announced on March 24, 2016 at POPAI's OMA Awards Celebration during GlobalShop 2016. GlobalShop is the world's largest annual trade show and conference dedicated to store design, visual merchandising and shopper marketing. This year's OMA Awards had over 400 entries in 13 categories.
Gold Award:
-2015 Kellogg's Toaster Display – Food, Semi-Permanent
Silver Awards:
-Rimmel Wonder'Lash Lift Me Up – Cosmetics and Fragrances – Semi-Permanent
-P&G Venus & Gillette February Endcap Drop – In – Drug Store – Temporary
-Nivea In-Shower Lotion Family – Hair Care and Skin Case – Temporary
-2015 Kellogg's Big Game Football Helmet – Mass Merchandise – Temporary
Bronze Awards:
-No7 Boots Étagère – Aisle/Category/Department Redesign – Permanent
-Werther's Caramels Speed Table – Drug Store – Temporary
-Rimmel Xxtreme Mascara Launch Floorstand – Drug Store – Temporary
-2015 Kellogg's Milk Carton Displays – Food – Temporary
-Powerball Family Relaunch – Hair Care and Skin Care – Temporary
-Frito-Lay DORITOS Avengers Floorstands – Supermarket – Temporary
-Excedrin Power Wing/Floorstand – Supermarket – Temporary
-SUPERVALU Culinary Circle – Supermarket – Semi-Permanent
About Menasha
Menasha Packaging Company, LLC, based in Neenah, Wisconsin, is a subsidiary of Menasha Corporation and has more than 3,300 employees at locations across North America. Also operating as Menasha Packaging Canada L.P. and commonly referred to as Menasha, the company is a leading provider of graphic consumer packaging, merchandising solutions, corrugated packaging, food packaging, shipping containers, material handling solutions, pack- out and fulfillment services. With a network of design, sales service centers, corrugated and paperboard manufacturing plants, and fulfillment facilities located throughout the United States and Canada, Menasha's mission is to help its customers protect, move and promote their products better than anyone else. For more information, visit http://www.menasha.com. Follow Menasha on Facebook, Twitter, YouTube and LinkedIn.
About Menasha Corporation
Menasha Corporation is a leading corrugated and plastic packaging manufacturer and supply chain solutions provider specializing in retail merchandising packaging and displays, plastic reusable containers and pallets, protective packaging interiors, and packaging supply chain and fulfillment services. Menasha Corporation's products and services are used by major food, beverage, consumer products, healthcare, pharmaceutical, industrial and automotive companies. Established in 1849, Menasha Corporation is one of America's oldest privately held, family-owned manufacturing companies. Headquartered in Neenah, Wisconsin, the company employs approximately 5,200 employees in more than 80 facilities in North America, Europe and Asia. For more information, visit http://www.menashacorporation.com.