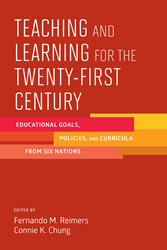 Educational systems are trying to close the gap between aspirations and classroom practice, in different ways and to differing degrees.
Washington, D.C. (PRWEB) March 30, 2016
Preparing students to thrive in the 21st century will be the topic of a book launch and discussion by experts from the Harvard Global Education Innovation Initiative, a research collaborative housed at the Harvard Graduate School of Education, which includes cooperation with research institutions in Singapore, India, China, Chile and Mexico.
EVENT REGISTRATION: The event is Monday, April 11, at 8:30 a.m. at the National Press Club. The media and public are invited to attend. Space is limited and pre-registration is requested. Click here to register.
Presenting at the event will be Professor Fernando Reimers and Dr. Connie Chung from the Harvard Graduate School of Education, as well as Professors Oon Sen Tang and Ee Ling Low from the National Institute of Education in Singapore.
The presentation of the findings will be followed by discussion from:

Former U.S. Assistant Secretary of Education and current President of the Association for Supervision and Curriculum Development Deborah Delisle
Assistant Secretary for International Affairs for the Department of Homeland Security and former California Secretary of Education Alan Bersin
Illinois Teacher of the Year in 2007 and President of the Teacher of the Year Organization Joe Fatheree
The Global Education Innovation Initiative at the Harvard Graduate School of Education supports the development of global education leadership for 21st century education by conducting research on innovative practices, training leaders, and creating a dynamic learning network of global partners interested in educational innovation.
This book presents research results from their ongoing cross-national research on how different national education systems prepare the young with the competencies they need to thrive in the 21st century. While the phrase "21st century education" often means an education that involves technology, the researchers have found that the kinds of competencies needed for work and life during a century that will likely be defined by "volatility, uncertainty, complexity and ambiguity" encompass far more than technological competencies, the authors said.
In the new book, Teaching and Learning for the Twenty-First Century: Educational Goals, Policies, and Curricula from Six Nations (Harvard Education Press, 2016), Fernando Reimers and Connie K. Chung collaborated with researchers from Chile, China, India, Mexico and Singapore for more than 18 months to synthesize research on 21st century skills and analyze national curriculum frameworks using a taxonomy reflecting that synthesis. They also conducted case studies to discern what factors had shaped the goals and purposes of public education in the countries studied.
The book may be ordered here: http://hepg.org/hep-home/books/teaching-and-learning-for-the-twenty-first-century
In particular, Chung and Reimers explored how national curricular frameworks and policies from these five countries and the United States prioritize, define, support and encourage the competencies that students need to thrive in the 21st century.
"While discussions about educational policies are not new, there exists little research that looks at the mechanisms by which these goals and purposes of education are made into policy and prioritized to help develop and support relevant competencies in students," Chung said. "We know even less about how these processes and skills may be influenced by social, political and other system contexts."
Across the globe, educational systems have broadened their goals to include competencies beyond the traditional literacies of math, reading, science and history. They may, for example, include a particular focus on citizenship, as in Chile or Singapore, or they may include teaching higher order thinking skills, as in China or the United States.
"Our study found that as the learning goals were broadened in these countries, educational systems are trying to close the gap between aspirations and classroom practice, in different ways and to differing degrees," Reimers said. "Doing so successfully will require a different kind of leadership than the leadership which has been successful expanding access to schools. The challenge now is to go beyond making education systems inclusive and efficient, to making them relevant to the needs of the 21st century."
Chung is the Research Director for the Global Education Initiative at the Harvard Graduate School of Education. Reimers is the Ford Foundation Professor of Practice in International Education and the director of the Global Education Innovation Initiative and the International Education Policy Program at the Harvard Graduate School of Education.
ABOUT THE GLOBAL EDUCATION INNOVATION INITIATIVE
The Global Education Innovation Initiative at the Harvard Graduate School of Education is a research and practice collaborative established in 2013, with partner institutions in seven countries. Our goal is to understand in what ways K-12 education institutions are equipping youth with the competencies necessary for life, work, and civic participation in the 21st century. (http://globaled.gse.harvard.edu/)
ABOUT CREATIVE ASSOCIATES INTERNATIONAL
Creative Associates International is a cosponsor of the April 11 event. Its CEO and Co-Founder, Charito Kruvant, is a frequent lecturer at Harvard.
Creative supports communities in the transition from conflict to peace by sharing expertise and experience in education, economic growth, governance and stabilization. (http://www.CreativeAssociatesInternational.com)
Based in Washington, D.C., Creative has active projects in more than 25 countries. Since 1977, it has worked in nearly 90 countries and on almost every continent. Creative is committed to generating long-term sustainable solutions to complex development problems.
Started by four enterprising women with diverse backgrounds, Creative has grown to become one of the leaders among the U.S. private sector implementers of global development projects. Creative is minority owned and operated.
EVENT REGISTRATION:
The media and public are invited to attend. Space is limited and pre-registration is requested. Click here to register: https://events.r20.constantcontact.com/register/eventReg?oeidk=a07ecdnhp5617d01ab2&oseq=&c=&ch=