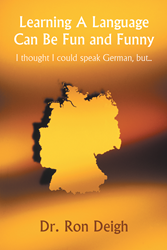 "The world is getting smaller. What is happening in other parts of the world is relevant to what happens here in America," Deigh said. "But laughter is the best medicine for everyone, regardless of where you're from."
FRESNO, Calif. (PRWEB) March 29, 2016
Adapting to a new language and a new culture is a difficult experience, but the troubles of translation can lead to hilarious miscommunication.
That was certainly the case for Dr. Ron Deigh. Deigh spent seven years living in Germany with the United States Army Veterinary Corps. While overseas, he tried to immerse himself in the German culture, often with comical results. His new book, "Learning a Language Can Be Fun and Funny," mixes his humorous experiences with his genuine affection for the German people.
"Immersion was not easy, but I made several German friends, and even met my wife, thanks to my attempt to learn the language," Deigh said. "It had a major impact on my life."
Deigh hopes his book will encourage readers to learn new languages and experience other cultures around the world.
"The world is getting smaller. What is happening in other parts of the world is relevant to what happens here in America," Deigh said. "But laughter is the best medicine for everyone, regardless of where you're from."
For more information, visit http://www.drrondeigh.com/.
Learning a Language Can Be Fun and Funny
By Dr. Ron Deigh
ISBN: 978-0-59553-361-9
Available in softcover, hardcover, e-book
Available on Amazon, Barnes & Noble and iUniverse
About the author
Dr. Ron Deigh, now a retired community college professor of biology, previously served as a lieutenant colonel in the United States Army Veterinary Corps. He enjoyed seven full years traveling with the U. S. Army throughout Germany and the rest of Europe, learning the German language and learning how truly wonderful and hospitable the Europeans are. He and his wife currently reside in Visalia, Calif.
# # #
For review copies or interview requests, contact:
Drew Tharp
317.602.7137
dtharp(at)bohlsengroup(dot)com