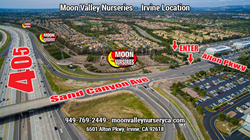 Irvine, CA (PRWEB) March 30, 2016
Moon Valley Nurseries, America's largest box tree grower, announces the grand opening of its new 35+ acre Irvine nursery. The nursery is located at 6501 Alton Parkway - visible from the 405 highway on the Northeast corner of the I-405 and Sand Canyon Avenue - This location is open daily Monday through Saturday from 7:00 a.m. to 6:00 p.m. and Sunday from 9:00 a.m. to 5:00 p.m.
"The amazing level of demand and the consistent phone calls asking for our quality trees and shrubs at the Irvine nursery has been non stop. We're expecting this nursery to be even bigger than our San Diego nursery," Moon Valley Nursery founder and president Les Blake said. "We deliver and plant anything and everything in our massive inventory and since we are the grower, we always guarantee to do it for the lowest price in town. Our Irvine nursery is one of our biggest nurseries and we're very excited to offer the best quality trees and shrubs for all homeowners in the Orange County area." Over 400 truckloads of trees have been brought in from Moon Valley Nurseries nearby farms and growing grounds just for the grand opening.
The Irvine nursery marks the the ninth nursery Moon Valley Nurseries now operates in Southern California. Located just west or the Irvine Spectrum, this location will feature a massive inventory of shade, flowering, waterwise, fast growing, evergreen, and deciduous trees. All grown by Moon Valley Nurseries in all sizes from small to massive. In addition, practically every variety of palm that grows in Southern California is available. Nursery pros are always on hand for free design consultations for homeowners and businesses.
Moon Valley's other nurseries in Southern California are located in Fillmore, North Hollywood, Chino, Murrieta, San Diego, Riverside, Huntington Beach, and Coachella. In addition, Moon Valley has specialized in the wholesale market in Southern California for decades with over 1200 acres in production in numerous farms across Southern California.
ABOUT US
Moon Valley Nursery opened its first nursery in a neighborhood north of downtown Phoenix known as "Moon Valley". Since the beginning, Moon Valley Nursery has offered its "you buy it, we plant it" tree deals, where the nursery staff performed everything from design thru installation. In addition to this, Moon Valley Nursery also grows its own trees and shrubs in order to maintain the highest level of quality that our customers had come to expect. The company operates 23 nurseries throughout Southern California, Arizona, Nevada, and Texas, along with 14 farms in Southern California.