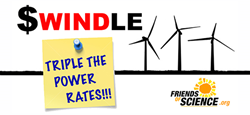 To meet the targets of the Paris climate talks means our economy would be turned to ashes. That's something to fear
Calgary, Alberta, Canada (PRWEB) March 29, 2016
Friends of Science Society disagrees with the economic and climate change claims made in a "green revolution" blog piece that was posted on CBC News website on March 24, 2016, which claims that "investing in green can provide a good return, while moving us towards the goal of reducing greenhouse gas emissions." This claim is disputed by Friends of Science new report "Green Jobs – Rhetoric or Reality" by energy economist Robert Lyman.
Google Engineers say wind and solar do not address climate change and are incompatible with modern society's needs in this report in The Register, Nov. 21, 2014.(1)
"So-called 'green' investments like wind and solar are experiencing widespread bankruptcies, like that of Abengoa in Spain," says Michelle Stirling, Communications Manager for Friends of Science.
As reported by Reuters, Feb. 24, 2016, just one Abengoa unit now filing for bankruptcy has debts up to $10 billion. LINK: reuters.com/article/us-abengoa-bankruptcy-usa-idUSKCN0VX2OH
The Guardian reported on Dec. 14, 2015 that the bankruptcy of the Spanish energy giant, which employs some 27,000 people, was predicted by a 17-year-old boy whose high school economics project noted discrepancies in Abengoa's accounting. Abengoa suffered losses when Spain cut government subsidies to renewables.
"The CBC posting claims, 'The idea of transitioning away from fossil fuels is usually met with the fear that it will cripple the economy,'" says Stirling. "Robert Lyman's report on the implications of meeting climate targets shows that to meet the targets of the Paris climate talks means our economy would be turned to ashes. That's something to fear."
"Finadvice has issued a comprehensive review of 'Lessons Learned' in Germany with renewables," says Stirling.
Friends of Science Society also reject the CBC's reference to alleged fossil fuel subsidies, referring to their recent report "Keep Canada in the Black."
"Environmental 'charities' make these subsidy claims; ironically, they are directly subsidized by taxpayers, as is CBC," says Stirling. "All oil and gas companies pay taxes, as do their employees, and there is a cascade of millions of jobs and useful products stemming from the oil and gas industry."
About
Friends of Science Society has spent a decade reviewing a broad spectrum of literature on climate change and have concluded the sun is the main driver of climate change, not carbon dioxide (CO2). Friends of Science is made up of a growing group of earth, atmospheric and solar scientists, engineers, and citizens.
(1) LINK: theregister.co.uk/2014/11/21/renewable_energy_simply_wont_work_google_renewables_engineers/
Friends of Science Society
P.O. Box 23167, Mission P.O.
Calgary, Alberta
Canada T2S 3B1
Toll-free Telephone: 1-888-789-9597 Free
Web: friendsofscience.org
E-mail: contact(at)friendsofscience(dot)org