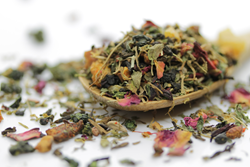 Tea leaves, like other herbs, also have healing and medicinal properties which we would all be wise to heed.
(PRWEB) March 31, 2016
Bloated stomachs and stubborn fat could be on the way out for many loose tea drinkers – well, those who indulge in the newly launched slimming brew Berry Rose Slenderize from speciality global tea company Tealyra, anyway.
That's because the much-lauded blend contains scientifically-proven fat melting teas such as the company's Pu-Erh (with its pro-biotic properties), appetite-suppressing chickweed and the known fat eliminator tea Oolong. Fragrance and taste in the new light caffeine-containing drink is boosted by an abundance of red berries as well as pineapple, coconut, mint and, of course, the addition of rose petals.
Described as "fruity, light and wonderfully refreshing" by those in the trade, Berry Rose Slenderize has already been selling even better than expected, according to the owners of Tealyra.
Company spokesman Dmytro S. Fedosyeyev said: "I'm sure it's the fact that spring is already here and summer is fast on its heels which is encouraging many of our 'regular' tea drinkers to switch to slimming tea as part of their regime to get trim for the warmer weather.
"Then, of course, there is the wonderful light taste both the berries and rose petals produce in the tea and which, in my opinion, is the perfect refreshingly light drink for a warm summer's day."
Tealyra, which has offices in Canada, America, the UK and distribution centres in Australia and New Zealand, is renowned for its exclusive, speciality teas. These include such prized organic offerings as ogura matcha – a ceremonial powder tea from the Japanese location in which the leaf was first discovered. The vibrant green tea is creamy and produces a clean aftertaste with no bitterness.
Another exclusive tea to Tealyra is the aforementioned Pu-Erh Tea. A blend of fermented high-quality tea leaves and organic rice yeast from the Shizuoka prefecture of Japan, this has a smoked-oak flavour where the bitterness of citrus peel is offset by the sweetness of caramel. Because it's a 'live' (ie fermented) tea its pro-biotic properties means it can aid digestion and help with internal gas and bloating.
Tealyra has been producing unique loose tea blends from the finest quality teas and ingredients since its inception six years ago. Today they offer more than 1000 kinds of loose tea and are particularly proud of an exclusive limited edition white tea from Japan. They also offer a specially-packaged and formulated child friendly caffeine-free fruity blend.
Fedosyeyev added: "Tea isn't just about having something pleasant and calming to drink to help get you through those sugar slumps in the day. No, tea leaves, like other herbs, also have healing and medicinal properties which we would all be wise to heed.
"Personally, my own hands are matcha-stained. Me and my colleagues drink tea, touch tea, talk tea and study tea all day long."
In addition to selling loose tea, Tealyra also provide a range of updated tea ware and accessories such as Yixing teapots (named after the location in which the famous clay was first discovered), Japanese matcha whisks, steeping tools and thermos flasks as well as various cups and mugs.
Find out more about the loose teas and their traditions at http://www.tealyra.com