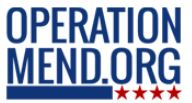 I wanted to create a website that would share their stories and give them the recognition they deserve.
Simi Valley, CA (PRWEB) March 30, 2016
Operation Mend is using the reach of the Internet to promote positive, uplifting and inspiring news stories about those who have triumphed in the face of adversity. While primarily focusing on military servicemembers and veterans, coverage is also extended to first responders, health care professionals, and everyday heroes whose stories will make each reader strive to be a better person.
When stories of terrorism and man's inhumanity prominently dominates the news, it is a needed service to report the presence of good in the world, and that is the goal of Operation Mend. The website publishes the stories of everyday heroes and their triumphs, often times against all odds.
Past stories include Lee Woodruff's tribute to her journalist-husband Bob, who survived a roadside bomb explosion in Iraq, and Myles Eckert's viral Pay it Forward $20 bill. Upcoming stories include the youngest hero to date, four-year-old Tyler Stalling's Give Back to Veterans Day, the kidpreneur's quest to furnish hygiene kits to homeless and elderly veterans, and U.S. Army veteran Adelina Hay Sowell's The Final Mission, a program that grants final requests to veterans facing the end of life.
Victories come in all shapes and sizes. But what makes them heroic is that they are not self-serving, but rather, done for the benefit and welfare of others.
"Working in the military arena for over 15 years, I have had the opportunity to meet many extraordinary people with some really amazing stories," said Debbie Gregory, the founder of Operation Mend. "I wanted to create a website that would share their stories and give them the recognition they deserve."
Operation Mend aims to shine a light on these stories, and in doing so, change the nature of our conversations. And if reading these feel-good, uplifting and inspiring reports can spread hope along the way, the purpose has been served.
Operation Mend's readers are encouraged to submit stories that fall in this criteria by emailing them to info(at)operationmend.org.
About OperationMend.org
Operation Mend, the brainchild of Debbie Gregory, seeks to counterbalance news that focuses on the negative by sharing positive, uplifting stories that will inspire and help others who are also dealing with adversity of some type. Ms. Gregory is the CEO of MilitaryConnection.com, one of the most comprehensive directories of resources and information for military and veterans, known as "the Go To Site, and the founder of the Veterans and Military Business Owners Association (VAMBOA).