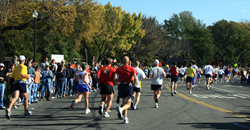 An untreated foot or ankle injury may affect an athlete's quality of life over time, and in some cases impact their long term ability to complete in seasonal running events.
Santa Rosa, CA (PRWEB) March 30, 2016
In Sonoma County, the season's first running events begin in April and runners are already gearing up for months of footraces, triathlons, 5K's, marathons and half-marathons. In order to compete without injury, these athletes need to think foot and ankle readiness. Avoiding injuries is the name of the game for anyone hoping to ride out the season with success. Preparing beforehand is imperative.
Running is more than just a pastime for many Americans with a reported 28,000 events happening annually and 18,750,000 runners having finished races according to the 2015 State of the Sport U.S. Race Trends. With that many people running, there is a lot of potential for injury. Accidents, poor training practices, or improper gear account for many of the injuries, but many runners get hurt because they attempt to run before they are physically prepared.
Aside from accidents and injuries due to the occasional crash and burn and lack of preparation such as dehydration, sunburn, blisters, muscle cramps, and knee injuries the most common runner injuries tend to involved the foot and ankle, and include;

Sprains and strains
Achilles tendon injuries
Pain along the shin bone (shin splints)
Stress fractures
Dislocations
Plantar fasciitis
"Injuries that are not immediately recognized or are improperly addressed can lead to significant functional disability," says SRO Orthopaedic specialist Dr. Mark Shakel. "An untreated foot or ankle injury may affect an athlete's quality of life over time, and in some cases impact their long term ability to complete in seasonal running events."
Prepare Before You Run
Adding to the complexity of the foot and ankle is the fact that feet are an essential component to a person's mobility. Even people who don't participate in competitive running events endure at least 1,000 miles of walking each year. As nature's shock absorbers, feet provide the body's cushion for up to one million pounds of pressure during just one hour of strenuous exercise. Tips to keep competitive athletes on the road to success include:
Get in shape: Gradually increase the amount of time spent running - preferably over a period of weeks in order to build both muscle strength and mobility. Cross training can help build strength and muscle before taking on a marathon.
Wear appropriate footwear: carefully select athletic shoes that provide support in both the front of the shoe and under the arch. The heel and back of the shoe should provide stability to the foot. High arches require shoes with more cushion and a softer platform. Replace shoes at the first sign of wear.
Train on flat terrain: Pick a good running surface to get started – run on smooth softer surfaces such as lightly packed dirt that will give feet and ankles the support they need to build strength over the long haul. As strength builds vary training surfaces to including surface types that marathons are run on.
Do some stretching: Lightly stretch before jogging and ease into a slow jog for several minutes to give muscles a chance to warm up. Avoid forcing the stretch with a bouncing motion.
Add strength training to workout time: Strength training helps develop flexibility, mobility, balance and core strength and helps prevent injury.
Prevent reinjuring feet: Athletes who sustained ankle injuries in the past will likely benefit from using a brace or tape to prevent recurrent ankle injuries.
Don't try to tough it out: Foot and ankle pain is a message to pay attention to. Stop or modify the activity until pain subsides. Allow injuries to heal by observing a period of rehabilitation and warm-up training before returning to running in order to prevent future injuries.
Know When to See an Orthopaedic Specialist
As most foot and ankle injuries are mild and can be cared for at home, treatment strategies start with RICE (Rest, Ice, Compression, and Elevation) to relieve pain, reduce swelling and promote healing. For more severe injuries treatments may include pain relievers, keeping the injured area immobilize for a period of time, rehabilitation, physical therapy and in extreme cases; surgery.
It is important to seek medical attention for foot and ankle injuries that don't respond to home treatment, especially if swelling or pain persists. Prompt and appropriate treatment and rehabilitation helps to ensure the best possible recovery.
About SRO's Foot and Ankle Program
Dr. Mark E. Schakel is the director of the Foot & Ankle Program at SRO and the director at Santa Rosa Memorial Hospital's Foot and Ankle Trauma Service. He has extensive experience in treating problems of the foot and ankle, including reconstructive, traumatic, sports-related and congenital problems. For more information, visit the SRO website or call 707-546-1922 for an appointment.