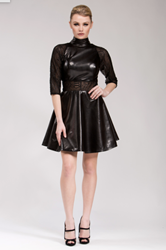 Los Angeles, CA (PRWEB) March 31, 2016
San Francisco-based fashion designer Mimi Tran debuted her fall and winter collection Optical Illusion during LA fashion week at the Taglyan Cultural Center this March. Sharing the stage with a curated list of established Southern California based designers, Mimi's red carpet collection dazzled on the runway earning rave reviews to those attending.
Mimi Tran's Optical Illusion collection is the strongest yet in the young designers career. The dresses exposed her inspiration of color, sculpture and artwork. Elegant and fierce, the fall and winter collection featured the finest silks, leathers and swarovski crystals from Europe and Asia. "The fashion show was flawless and it exceeded all my expectations. I had so much fun with this new collection, drawing on inspiration from my passion for art, I couldn't wait to share the dresses," says Mimi Tran. To preview the Optical Illusion collection, please visit http://www.mimitrandesign.com
ABOUT MIMI TRAN: Mimi Tran was born in Vietnam and emigrated at the age of seven to Paris where she attended boarding school and was recognized as a gifted child in free style art. At the age of 14, her family left Paris and moved to the United States. She later graduated from college with a bachelor's degree in electrical engineering and began her career at Cisco. Later she earned an MBA in International Business Management from Santa Clara University, but her artistic side kept pulling her toward means of creative expression.
MANNFOLK PUBLIC RELATIONS is recognized as being one of the country's most dependable boutique PR firms. Named in WWD PR "it" list, MANNFOLK PR provides an entire range of services with the personalized attention and dedication to excellence only a boutique firm can give.​ With the main office in Los Angeles and a satellite office in New York, MANNFOLK PR is staffed by creative talents and highly motivated experienced professionals who are committed to excellence and providing results.