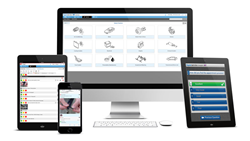 Infomedia has been focused on the parts and service end of the automotive retailing business for over 25 years.
Plymouth, MI (PRWEB) March 31, 2016
Infomedia, the industry's leading supplier of parts and service selling systems, announced the release of a suite of online solutions to drive sales of parts and labor for Chrysler, Dodge, RAM, Jeep & Fiat dealerships across the United States.
Rounding out the already wildly popular Microcat® Electronic Parts Catalog (EPC), Infomedia has released two new online solutions: Microcat Auto PartsBridge™ and Superservice™.
Microcat Auto PartsBridge extends the selling reach of a dealership's EPC solution into selected independent collision repair facilities. It allows independent collision repair facilities to accurately and efficiently validate the correct OE parts needed to carry out a repair, while allowing the dealership to review the entire list of parts needed for the repair including aftermarket parts not ordered through the dealership. In addition to streamlining parts identification and ordering for independent collision repair facilities, Microcat Auto PartsBridge empowers dealerships to be ultra-competitive in pricing OE parts, helping to conquest a higher degree of parts sales from aftermarket suppliers.
Superservice is the industry's most advanced Precision Service Quoting and Electronic Multi-Point Inspection (MPI) offering. Superservice contains VIN-specific OE defined repairs for the top 300 most common repairs, for every FCA make and model variant across a 15-year timeframe. Infomedia's data authoring team has utilized their FCA data license agreements and industry-leading expertise to build in excess of 1.1 million unique OE service repairs. With VIN-specific repair operations and dealership specific data such as parts pricing, parts availability, labor rates, shop supplies and taxes, service staff can instantly create customer quotes that are correct to-the-penny. When Superservice's Precision Service Quoting engine is integrated with its MPI capabilities, dealership staff are empowered to inspect a vehicle, quote service and repair costs and present results for work authorization within the short timeframe that the customer is most receptive to purchase. Through the addition of transparent photographic evidence of repair requirements and engaging sales presentation tools, dealerships utilizing Superservice see substantial increases in work identified, work sold on the day and declined work sold on follow-up.
According to Karen Blunden, CEO of IFM Americas: "Infomedia has been focused on the parts and service end of the automotive retailing business for over 25 years. We are relentless in our pursuit of providing Fixed Ops solutions that deliver a superior customer experience, while creating a seamless workflow based on OE-rich data combined with dealership-defined data. Our solutions drive significant increases to a dealership's revenue and profits while boosting staff productivity and flexibility, with access to Microcat EPC, Microcat Auto PartsBridge and Superservice on any device that is connected to the Internet."
About Infomedia
Infomedia (ASX: IFM) is a leading global provider of SaaS solutions to the parts and service sector of the automotive industry, supplying online parts selling systems, sophisticated service selling systems, a range of publications, data analysis and information research to over 150,000 users of products in more than 186 countries. For more information, visit http://www.infomedia.com.au.