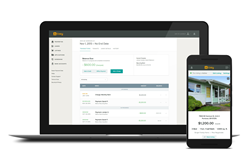 Cozy's mission is to bring peace of mind to renters and property managers by solving the biggest headaches, from rental application to move out.
Portland, Ore. and Albuquerque, N.M. (PRWEB) March 30, 2016
Cozy, a leading provider of property management software, has partnered with the Apartment Association of New Mexico to bring modern rent collection and screening tools to AANM members.
The AANM serves about 725 individuals and companies, which own or manage more than 53,000 apartment homes in New Mexico. Like most landlords around the country, the property managers of New Mexico still regularly deal with late rent, paper checks, and tenants who slip through the screening process.
The AANM chose Cozy to help their members avoid these pitfalls, and to provide them with the tools needed to be successful.
"Cozy's mission is to bring peace of mind to renters and property managers by solving the biggest headaches, from rental application to move out," says Gino Zahnd, CEO and Co-founder of Cozy.
The partnership will help AANM members access Cozy's free core services, including:

Secure online rent collection
Easy online rental applications
Comprehensive credit reports, identity verification, and background checks
Syndicated rental listings on Realtor.com and Doorsteps.com
Property management tools that work on any device
Property managers across the country typically save thousands of dollars a year by automating their business with Cozy. Not only does Cozy allow them to eliminate redundant tools and services, but many managers immediately see fewer late rent payments when tenants start paying rent online through Cozy.
Cozy provides bank-level security and meets stringent data security and privacy standards in the credit, finance, and identity sectors. And Cozy alleviates the burden of handling, processing, and storing sensitive applicant information, while still providing comprehensive credit reports and background checks, at no cost to landlords.
Earlier this year, Cozy announced partnerships with the National Association of Realtors and Move, a tremendous show of industry trust. The partnership with the AANM represents another important step toward empowering landlords and property managers around the country.
"As Cozy continues to raise the standard for rental management services across the U.S., we will continue to partner with other rental housing associations," Zahnd says. "Our partnership with AANM is one proud step in that direction."
During the next few months, Cozy will host a series of educational workshops exclusively for AANM members. These workshops will cover a variety of best practices designed to help their members become more profitable and successful.
If you or your local Housing Association would like to partner with Cozy, please contact us at hello(at)cozy(dot)co.
About Cozy
Cozy (http://www.cozy.co) makes renting easy for landlords, property managers, and tenants. Simple rent payments, online rental applications, and secure tenant screening make Cozy the best way for managers and renters to interact through the entire rental lifecycle.
Cozy is currently used by more than 125,000 property managers, landlords, and tenants in all 50 states plus Puerto Rico. Founded in 2013, Cozy is headquartered in Portland, Oregon.