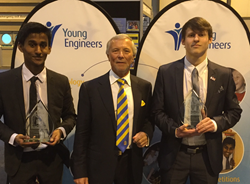 Yet again I have been hugely impressed with the standard of the Young Engineers projects this year; indeed every year the standard seems to go up.
London, UK (PRWEB UK) 30 March 2016
A-level students, Brad Stalker of the Energy Coast UTC (University Technical College) in Cumbria and Sudhakar ('Sud') Sivaneswaran of Sutton Grammar School have won the opportunity to compete, along with over 1,700 other students from around the world, in the Intel-sponsored International Science and Engineering Fair 2016 (ISEF), which this year is held in Phoenix, Arizona from 9th – 13th May 2016.
The students, who were competing against 10 other finalists from around the UK, were judged winners of the WCSIM-sponsored prizes at the Young Engineers National Finals, held at the recent Big Bang Fair, the UK-wide schools' competition for science and engineering. The Worshipful Company of Scientific Instrument Makers (WCSIM), a City Livery Company which promotes the craft of scientific instrument making, will sponsor the two students by giving them an all-expenses-paid trip to the USA to attend this year's Intel ISEF competition. The National Physical Laboratory (NPL) in Teddington will mentor the two students, helping them fine tune their entries and their presentation skills in preparation for the international competition.
Brad Stalker's project was based on a real-world problem, as experienced by friends living in nearby Cockermouth who were flooded out in the recent floods. He designed and manufactured a scalable device, built with bio-plastic, to upset the sediment flow in river water in order to prevent rivers silting up. This 'vortex generator' was designed using CAD and was 3D-printed. It also can be used to direct the flow of water, if necessary, onto a small turbine which can be used to generate power. The judges were especially impressed with the original research on the requirement and the clever use of design to create such a simple but effective solution.
Sud Sivaneswaran also presented a project which satisfied a 'real-world' problem. In his case he had designed a system based on coolers which used the Peltier effect to control the temperature of an aluminium block. This block was used to calibrate individual temperature sensors which could then be used within commercial refrigeration projects. During his project he investigated both air and water cooling, and incorporated an Arduino-based control system.
Rod Edwards, Chief Executive of the Young Engineers charity, said: "Yet again I have been hugely impressed with the standard of the Young Engineers projects this year; indeed every year the standard seems to go up. The judges had an extremely difficult job this year, having to select from 12 finalists, all of whom had been through the WCSIM-sponsored, NPL hosted, Mentoring Programme. I am very much looking forward to taking Brad and Sud to the Intel ISEF event in Phoenix in May and I think they will stand a very good chance of returning with some international awards. Young Engineers would not have been able to hold its National Finals at the Big Bang Fair this year without the financial support of WCSIM, and we are hugely appreciative of their support and help."
Christopher Sawyer, Master of the Worshipful Company of Scientific Instrument Makers, said: "We are delighted to be able to sponsor Brad and Sud to attend this year's Intel ISEF and we wish them every success. This prestigious event attracts entries from all over the world, and winners in the various categories are rewarded by top prizes and recognition. All this helps, of course, with future job prospects and develops our entrepreneurs of the future."