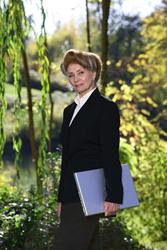 Grants Pass, OR (PRWEB) March 29, 2016
"Quit growing meat products and agricultural water usage in the United States would immediately be cut by 50 percent." The statement has important implications for places like California that have been struggling for decades with water shortages and deciding whether to allocate scarce water for households or agriculture. The assertion was made by water conservation activist Dr. Richard Oppenlander, appearing as a guest on a recent "Sharon Kleyne Hour® Power of Water®" radio show.
Kleyne interviewed Oppenlander on the subject of food choices, water supply and the health of the planet on her radio show of March 21, 2016. The globally syndicated, education oriented show is heard weekly on VoiceAmerica (Health and Wellness, and Variety Channels) and Apple iTunes. For podcasts of past shows, go to http://www.voiceamerica.com/show/2207/the-sharon-kleyne-hour
"Sharon Kleyne Hour® Power of Water®" is sponsored by Bio-Logic Aqua® Research Water Life Science®, founded by Kleyne and specializing in fresh water, the atmosphere, body surface evaporation, dehydration and education. The Research Center's signature product is Nature's Tears® EyeMist® for dry eye.
Richard Oppenlander, DDS, is a restorative dentist in Portage, MI, near Kalamazoo, and a well-known speaker and activist on the effect of food choices on the Earth environment. He is author of "Food Choice and Sustainability" (Langdon Street Press, 2013).
Americans use an average of 2,000 gallon of water per day, says Oppenlander. That puts the total amount of water drawn from the ground for all purposes in the U.S. at 600 billion gallons per day (2,000 gallons x 300,000,000 population), Kleyne adds. The water is used for: electrical generation (coal and nuclear) – 48 percent; agriculture – 34 percent; households – 11 percent; and industry – 5 percent (comes to 98 percent).
If that seems like a lot of water, it is. Household water consumption in the U.S. averages 98 gallons per day, Kleyne notes, which is several times the amount used, for example, by the average Kenyan villager. Household water in the U.S. is used for showers (5 gallons a minute), baths, dish washing, laundry, cooking, lawn and garden, and faucets (mostly drinking, hand-washing and brushing teeth).
Oppenlander introduced the term "pseudo-sustainability." "Sustainability" is defined as the capacity of an ecosystem to endure, remain productive and not use itself up. Oppenlander contends that sustainability designations are affected by cultural bias. Pseudo-sustainability occurs when society attempts to sustain certain goods that it wants but doesn't need, at the expense of other goods that it does need. The world, according to Oppenlander, produces on overage 1.5 to 1.7 times more goods than can be sustained.
The biggest pseudo-sustainability culprit, says Oppenlander, is animal products – meat and dairy. Half the 2,000 gallons of water consumed per person per day in the U.S. is used for food production (although not necessarily for agriculture).
If everyone in the U.S., according to Oppenlander, would eliminate all animal product consumption (including fish) and move to a plant based, whole food vegan diet, per capita water use for food production would be cut in half. This could potentially offer a solution for the many water districts in drought areas that are now in crisis.
Water recycling, the processing and reuse of used water, Kleyne adds, could further mitigate drought by eliminating the need to import water or mine ground water on a daily basis.
A whole food, plant based vegan diet, Oppenlander notes, not only requires far less water, it is far more healthy, better for the environment, produces more oxygen, more water vapor and less CO2, and has the potential to mitigate climate change. An acre of alfalfa, 95 percent of which is used for livestock feed, requires a million gallons of water a day to irrigate. The water savings in alfalfa alone would be enough to supply the City of San Francisco with water for 56 years.
Kleyne agreed with Oppenlander that cultural bias affects food choices and that our choices do not always reflect what is best for our health or for the long term sustainability of the planet.
©2016 Bio-Logic Aqua® Research Water Life Science®. All rights reserved.
Sources:
"Estimated water use in US in 2005," USGS, 2009
http://pubs.usgs.gov/circ/1344/pdf/c1344.pdf
"Estimated water use in US in 2000," USGS, 2005
http://pubs.usgs.gov/fs/2005/3051/