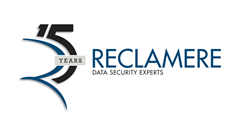 Tyrone, PA (PRWEB) March 31, 2016
Reclamere, the company that positions businesses to safely and securely dispose of their IT assets, announced it will be sponsoring an April webinar designed to help companies of all sizes move their IT infrastructures safely and securely to the cloud.
Reclamere CEO and nationally recognized data security expert, Angie Singer Keating, will be talking to attendees about data destruction & data security and the continuing needs that may not have already been considered in an organization's plans to move to the cloud.
The webinar on Thursday, April 14th will be held at noon ET, and will feature a number of key takeaways including;

Addressing the initial data destruction process in end of life obsolete servers
The complexities that must be addressed if you are using leased equipment
Keys to selecting the right cloud service providers
Important tips around cloud provider contract reviews
Security processes that should be in place around on-going cloud use
The critical importance of employee security checks
To register, click here.
About Angie Singer Keating
Ms. Singer Keating is chief executive officer at Reclamere, Inc. She has a broadly diversified background with over 20 years of experience specializing in computer forensics, data destruction, security incident response, information technology risk management and systems auditing. Ms. Keating and the Reclamere Data Security Experts team provide consultancy in: eDiscovery & litigation support, forensic analysis, data breach response, notification & compliance, and compliance & risk management services (HIPAA, PCI, GLB, SOX).
About Reclamere
Reclamere, Inc. is a data security company offering a full range of data destruction and data security services. Founded in 2001, Reclamere provides client-focused, environmentally compliant management solutions for end-of-life computer equipment and data destruction services. As an industry leader, Reclamere is known for its robust data security assessments, expert consulting capabilities, and proprietary data breach prevention processes. Reclamere guarantees protection of its clients' sensitive information against data breaches and data theft. The company also alleviates liabilities related to the environmental impact of end of life equipment disposal. Reclamere's facility is both R2 and NAID AAA-Certified. Reclamere also works with clients on-site at their locations throughout the U.S. For more information, visit http://www.reclamere.com.