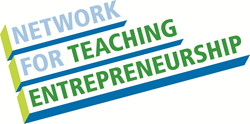 Shawn Osborne, President and CEO of NFTE, said, 'Our success is completely based on the strength and dedication of our partners, teachers and volunteers – and we're deeply honored to be able to recognize some of their outstanding work.'
NEW YORK (PRWEB) March 31, 2016
The Network for Teaching Entrepreneurship (NFTE) – the 27 year-old international non-profit which teaches the entrepreneurial mindset to underserved youth – yesterday held its annual Global Showcase presented by MasterCard which featured a conversation with Chelsea Clinton and Troy Carter. In addition, NFTE recognized the achievements of students, teachers and volunteers from around the world. Three special, previously unannounced awards were also presented.
At the Showcase, the Alper Family Foundation presented an award to NFTE's outstanding corporate partner volunteer and to an outstanding NFTE volunteer. Those honorees are:

EY, recipient of the Corporate Volunteerism Award
This year alone, more than 400 EY professionals across the United States committed nearly 2,400 hours of work in NFTE classrooms, at competitions, and on field trips and EY people sit on ten of NFTE's 11 Advisory Boards in the U.S.
"At EY, our people are our most valued resource, and when they commit their most valuable resource – their time – amazing things happen," said Deborah K. Holmes, EY Americas Director of Corporate Responsibility. "The skills-based volunteering that EY offers with NFTE enables young people to connect their classroom learning with real-world experiences. At the same time, EY people are building their own capabilities and contributing to our purpose of building a better working world."
Randy Haran, CEO and President of Texas Air Composites in Dallas, recipient of the Individual Volunteerism Award
"NFTE is a great organization with a real and tangible impact on young people and it's been my pleasure to help them, and their students, find success," said Haran. "And to be recognized for doing what's in your heart is a real honor."
Haran, who became active with NFTE North Texas after attending a regional business plan competition, and subsequently provided over 100 hours of mentoring, has been a guest speaker in numerous classrooms and provided much needed funding to support the organization.
NFTE also presented the inaugural John C. Whitehead Global Teacher of the Year Award named for John Whitehead who was a special friend to the NFTE family. Whitehead served on the national NFTE Board and was Chairman of Goldman Sachs and Chairman of the Lower Manhattan Development Corporation. The recipient of the first John C. Whitehead Global Teacher of the Year award and a $5,000 award is:
Dawn Fregosa, teacher at San Leandro High School Academy for Business and Finance in San Leandro, CA
Fregosa is passionate about providing her students relevant, real world learning opportunities, and preparing her students for college and careers. She is a fierce advocate for student equity and the integrity of our program, working to ensure that youth are provided many growth opportunities.
"Part of this money is going to go towards my former NFTE student who has been homeless for two years and was just accepted into college," Fregosa said. "We didn't know how he was going to pay for incidentals and books and we hope that this additional support will continue to put him on the path of success - that's the power of NFTE."
Shawn Osborne, President and CEO of NFTE, said, "Our success is completely based on the strength and dedication of our partners, teachers and volunteers – and we're deeply honored to be able to recognize some of their outstanding work."
In addition to these individual awards, students, volunteers and teachers heard Clinton and Carter speak about the importance of an entrepreneurial mindset in a conversation moderated by Lee Hawkins, News Editor for the Wall St Journal.
Clinton serves as Vice Chair of the Clinton Foundation, the global program-based charity which, in addition to its focus on environmental and health issues, has contributed heavily to growing business and entrepreneurship opportunities around the world. Carter is the Founder and CEO of Atom Factory, a diversified entertainment company with roots in music, media and technology and has made 80+ investments in early stage startups – including Spotify, DropBox, Uber, Warby Parker, and Lyft.
Network for Teaching Entrepreneurship
Network for Teaching Entrepreneurship (NFTE) is an international nonprofit that activates the entrepreneurial mindset in young people and builds their knowledge about business startup. Students acquire the entrepreneurial mindset (e.g., innovation, self-reliance, comfort with smart risk), alongside business, STEM and presentation skills – equipping them to drive their best futures in the 21st Century. NFTE's work focuses in under-resourced communities, providing students the skills to recognize and act on opportunities in the world. NFTE has taught 600,000 young people with programs in 23 locations in 10 countries. To learn more, visit: http://www.nfte.com, like NFTE on Facebook at http://www.Facebook.com/NFTE, or follow us on Twitter at @NFTE
MasterCard
MasterCard is a technology company in the global payments industry. We operate the world's fastest payments processing network, connecting consumers, financial institutions, merchants, governments and businesses in more than 210 countries and territories. MasterCard products and solutions make everyday commerce activities – such as shopping, traveling, running a business and managing finances – easier, more secure and more efficient for everyone. Follow us on Twitter @MasterCardNews, join the discussion on the Beyond the Transaction Blog and subscribe for the latest news on the Engagement Bureau.