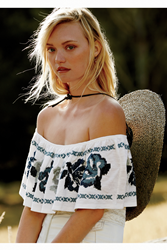 "We are excited to be adding another store to our Florida market in Naples. We believe that our customers will enjoy the collection that the location will offer, especially our assortment of intimates and shoes."
Philadelphia, PA (PRWEB) March 29, 2016
Lifestyle brand, Free People, will bring its eclectic apparel to Naples' upscale open-air mall, Waterside Shops on Friday, April 8th 2016. At 2,995 gross square-feet, Free People is thrilled to open its seventh store in the Florida state. Currently, Free People operates boutiques in Miami, Tampa, Fort Lauderdale, Sarasota, and Jacksonville. This will be the brand's 117th store across the United States and Canada.
The new space will be designed in the brand's 'Boho Studio' concept. Highlighting the artistic side of the Free People girl, the space was created to feel like her studio workshop by highlighting a mix of rugged features and feminine details throughout. Customers will be welcomed through an angled white steel storefront with double doors. A natural brick base will adorn the entire length of the storefront, with natural brick pavers positioned at the alcove entry and a backlit 'Free People' sign installed on the store's façade. Wide plank reclaimed flooring changes direction within the store to easily navigate the customer. The back portion of the store will feature 5 fitting rooms, an intimates and sales section. The entire fitting room area will have a special mica plaster finish. The interior finishes include, white washed wood cladding, suede wash, soft maple accents, and special glittery mica plaster finishes throughout.
Free People Naples will be stocked with a range of fashionable spring styles full of bright colors, embroidery, and bold floral patterns. A large selection of dresses covering all different sensibilities will be available from embellishments, bold prints, rompers, lace and various silhouettes. FP tees as well as trend shapes and details such as off the shoulder, halters, tunics, and ruffles will be available for those searching for more casual pieces. Free People Naples will also supply customers with a strong assortment of FP must have knit tanks and bodysuits perfect for the season ahead paired with shorts and skirts. A dedicated white shop concept will provide the shopper with spring white dressing with pops of military inspired pieces and colors, especially highlighted will be white flowy woven tops and dresses. A dedicated 'FP Collection' shoe shop will have an assortment of about 20 styles with a wide array of sandal options. The store's 'Intimately Free People' section will feature set dressing within underwires and soft bras paired with matching undies as well as a small boudoir package featuring lacey bodysuits, robes, slips, rompers and sleep pants.
"We are excited to be adding another store to our Florida market in Naples." Says Beth Wehagen, Free People's Director of Retail. "We believe that our customers will enjoy the collection that the location will offer, especially our assortment of intimates and shoes."
The store will have an opening day celebration on Friday, April 8th from 3-5pm. 10% of all proceeds during the event hours will go to the Naples Junior Woman's Club. Champagne will also be served.
To celebrate the opening, the brand is launching a sweepstakes for local customers. Through April 7th, local customers can enter for a chance to win a $500 Free People Gift Card that must be picked up to redeem at the new Free People Naples boutique. To enter, customers must visit: http://www.freepeople.com/naples-sweepstakes.
Each Free People store offers personalized shopping experiences from a team of expert stylists. Free People Naples, FL customers can schedule a one-on-one appointment with their favorite stylist, as well as interact and gain inspiration through the brand's online Style Community, FP Me.
Free People Naples, Florida will be located at Waterside Shops at 5415 Tamiami Trail N, Naples, FL 34108. Store hours will run Monday through Friday 10am-7pm, and Sundays 12pm-6pm. Fans should follow the store on Instagram to stay up-to-date on all the latest arrivals, events, and other happenings:https://www.instagram.com/freepeopleflorida
For more information, images, to request an interview, or to discuss a TV opportunity, please call Katerina Patouhas at 215-454-3871 or email kpatouhas(at)freepeople(dot)com.
###
About Free People
Free People is a specialty clothing brand featuring the latest trends and vintage collections for women who live free through fashion, art, music, and travel. The eclectic look consists of quality apparel, shoes, and accessories that invoke attributes of femininity, spirit, and creativity with its design. Free People is distributed globally via direct channels including the Free People Global site, the Free People UK site, and the Free People China site as well as specialty boutiques, top department stores, and the brand's free standing retail locations in the U.S. and Canada.
About Waterside Shops
Set in the ultra-exclusive city of Naples, Florida, Waterside Shops is a collection of the finest luxury brand retailers from around the world and elegant dining options in a tranquil, outdoor environment. Anchored by Saks Fifth Avenue and Nordstrom, the center is home to more than 60 stores including Gucci, Louis Vuitton, Tiffany & Co., Burberry, Ralph Lauren and MaxMara. A truly sublime experience, visitors can wander past cascading waterfalls, lush flowering plants, and dramatic architecture all under the canopy of towering royal palm trees. For more information, please visit http://www.WatersideShops.com.